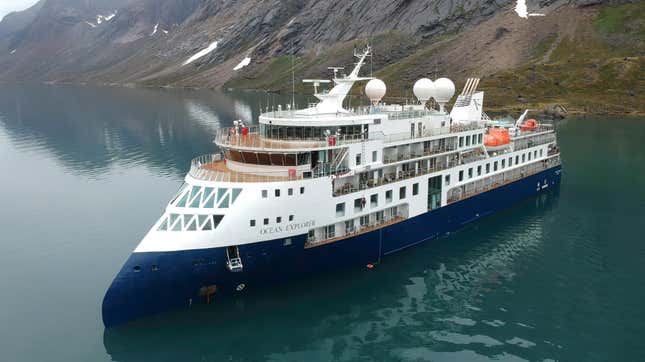 Icebergs and glaciers used to be the greatest threat to ships crossing the North Atlantic Ocean a century ago. Luxury voyages now explicitly head further north in the Arctic Ocean for sightseers to experience first-hand the gradually melting wonders of the world's iciest regions. A cruise ship ran aground above the Arctic Circle just off the coast of Greenland earlier this week in yet another example of humanity's hubris.
The MV Ocean Explorer ran aground on Monday in Alpefjord within the Northeast Greenland National Park, the northernmost national park on the planet. The Associated Press reported that the fjord is located roughly 150 miles away from the closest populated settlement, so assistance was days away for the 206 people aboard the vessel. SunStone Ships, the ship's Copenhagen-based owner, published a release two days later stating that everyone was okay and that another ship had arrived to assist. The company's release reads:
"There are no injuries to anyone onboard, no breach of the hull and no pollution. All persons onboard the vessel are safe, and all services onboard are fully functional. The mood and spirit among the passengers are positive."
The Tarajoq, a research vessel from the Greenland Institute of Natural Resource, was the ship tasked with freeing the stuck MV Ocean Explorer. The rescue effort earlier today was successful, and the cruise ship is now heading to a port to examine its hull for damage thoroughly, likely in Iceland. The situation was slightly complicated when the ship's medical team discovered that three passengers had tested positive for COVID-19. Regardless, the 20-day cruise was cut short and the other passengers will depart the vessel to fly home.