Cars nowadays are built to not only be strong, but to also look brawny and tough. Cars from before the Great Depression, on the other hand, have a certain style and flair, characterized by a spindly, delicate, almost spidery look. And they didn't just look dainty, they were dainty. Which was apparent when they crashed.
And yet somehow, when they did crash, the twisted metal, bent wire wheels, and collapsed canvas roofs lends an anarchic tone to the scenes, while the stark paucity of heft to their bodywork lends itself to jarring imagery even in low-speed collisions. That lack of mass also lent itself to terrible injuries, and even deaths, in crashes that would be easily survivable today.
But sometimes, the world is like that. Even when death occurs, over time the photos can become something else entirely. They can become beautiful. And they can serve as a reminder of how far safety and engineering have come.
This collection of photos, from Library of Congress, and via the excellent Shorpy archives, shows just that.
G/O Media may get a commission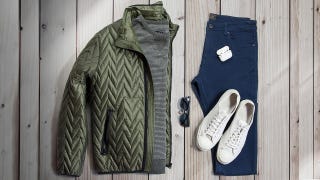 60% off
Jachs NY Fall Sale 60% Off
Death Car: 1923. The vehicle plunged into 20 feet of water in the Tidal Basin in Washington, DC, on New Year's Eve. Two people were killed, and a third managed to escape before the crash.
Auto Wreck: 1923. Outside the Library of Congress.
Highway Wreck, November 1936. On US 40, outside Hagerstown, Maryland.
Yes, Auto Polo used to be an actual Thing, with roll bars and all.. Wonder why that never caught on.
June, 1931. Not every crash was necessarily catastrophic.
Battalion Fire Chief Timothy J. Donahue sustained broken ribs, a cracked jaw, and face, head, and body lacerations in this January, 1921 crash. He survived.
Dorothy Holland sustained serious and life-threatening injuries in this July, 1923 crash. It is not known if she survived.
June, 1925. Henry Thayer and his daughter, Lois Virginia Macias, were both killed after their car plunged into a creek. Two survived.