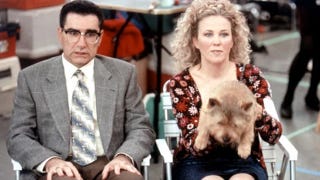 With another Frankfurt auto show disappearing in the rearview camera, it's a good time to take the best comments from the show for one last left-footed trot in front of the judges. Here for the third-place ribbon is Batshitbox's brief note on Rowan Atkinson's strange pose:
Rowan Atkinson: "Oh, God... I have a full bladder and I'm about to sneeze. Any way you look at it something nasty is going to end up on either the Rolls Royce or a booth girl... possibly both.
Oh, Look! A photographer from Jalopnik, that'll do nicely"
The second-place ribbon and a month's supply of fine kibble go to Bangarang's barking over Volvo's Concept You:
That sounds about right for modern car design.

What engine does it have? Who cares, check out this carpet!

Why is the brake and steering feedback so muted? Whatever, the owners manual is an iPad!

Does it come in manual? Shut up dummy, the stereo was designed by Dr. Dre!

This is the automotive world we all live in now. There are a lot of beautiful, interesting, powerful cars out there, many featured and drooled over on this site. Cars for those who love cars, for those who love driving, for those who relish rather than fear the rear end breaking loose, for those who know the best way to lose ten pounds is a hot day at the track, for the gearheads and grease monkeys and Miata drivers.

But for every one of those cars there are a dozen numb, boring, wood-grain-look trimmed, automatic-only beigemobiles. For every FT-86 concept that will never be produced there are countless Prius iterations ready to roll off the assembly line. For every Europe only, AWD, turbo hatchback that will never make it to these shores there are parking lots full of SUVs that drive like you stuck a motor on your couch. A vehicles worth is now measured in miles per gallon and how many different models you can use this same window switch in because really, how do you quantify how good it feels to turn the radio off and listen to the engine sing? Why would a focus group respond to the word passion, unless it was in front of the word fruit and describing this years new colours? Who cares if the rotary is a marvel of engineering, engines aren't sexy. Not anymore.

The answer is no longer because racecar my friends. It's because groceries. It's because fiscal responsibility. It's because who cares about cars, and that breaks my pushrod heart.
And finally, today's loving cup goes to 67Firebird454, whose response to CobraJoe's idea of future Up! breeding won the show:
Up? (We're working on it.)

Stand Up! (4 passenger Segway.)

Pick Up! (1 seat micro-car. Not a truck.)

High/Jacked Up! (Lifted pickup truck/SUV.)

Not Up! (Lowrider.)

Make Up! (Cute, comes standard with bow, puppy, and is equipped with cosmetic mirrors.)

Catch Up! (Slowest car in production. Available only in red, but later in undesirable other colors)

Get Up! (Car designed for you to sleep in, equipped with alarm clocks.)

Act Up! ( Indestructible car with 60 gallon fuel tank.)

Ante Up! (A car inspired by Vegas.)

Up. ( A car for serious minded customers.)

Size Up! ( For customers that want to compensate.)

Scuft/Lit Up! (Minivan/station wagon with dent resistant panels targeted towards alcoholics. Optional "honor student" sticker package. Buzzers to notify you when you leave your lane and automatic headlights. You will not get pulled over in these vehicles.)