This is the Morning Shift, our one-stop daily roundup of all the auto news that's actually important — all in one place at 9:00 AM. Or, you could spend all day waiting for other sites to parcel it out to you one story at a time. Isn't your time more important?
---
1st Gear: Corvette Is Now Consumer Reports Top American Car
Chevy has always called the Corvette "America's greatest sports car." Now the 505 HP Corvette Z06 can call itself "America's top car" — well, as far as Consumer Repors is concerned. With the score of a 92 (out of 100), the screamingly fast Corvette Z06 was the top-scoring domestic car in the publication's road tests for 2012. But for anyone who thinks this means CR has dumped the dorky for the awesome, that score is just one point below the Toyota Camry Hybrid XLE. Also, they gave the Jeep Wrangler Unlimited a score of a 20. WTF is up with that guys?
---
G/O Media may get a commission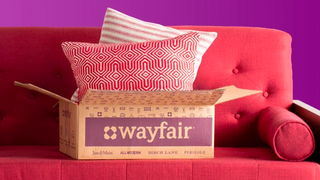 Big deals
Wayfair Surplus Sale
2nd Gear: The Kia K9 Is One Sexy RWD Korean Four-Door
Kia's let loose with the first official photographs of its all-new flagship rear-wheel-drive sedan that'll be launched this summer in the Korean domestic market with the name 'K9.' Although Kia didn't reveal anything else about the handsome new large sedan, since it shares the same platform as the Hyundai Genesis, we can likely assume they'll offer it with the same 3.8-liter V6, 4.6-liter V8 and 5.0-liter V8 engines. And frankly, given exterior styling that not only borrows from the BMW 7 Series, but carries it better, I'm actually a bigger fan of this RWD Korean sedan. The name the brand will use for export markets — along with overseas launch timings —will be announced later this year.
---
3rd Gear: Chrysler's Olivier François Is A Marketing Genius
For some strange reason and despite really unveiling no new cars this year (I'm sorry but re-badging the Chrysler Sebring as the "200" does not count as a new car to me) Chrysler is selling cars and making money hand over fist. So much money in fact that they're making Fiat profitable as a company. I can't tell you enough how much of an impact Olivier François. When people are buzzing about Chrysler in a good way it's usually because of him. That Clint Eastwood Super Bowl Ad had François' mitts all over it. As he reveals to Forbes, the man Imported From France was even smart enough to get out of the way and let Eastwood write it. Those French sure do get what Americans wants.
---
4th Gear: Cadillac's Goal Is To Punch Lexus In Its Luxurious Beige Mouth
So, according to Bloomberg, the gameplan for GM's Cadillac division isn't to take a run at BMW. No, it's to continue their war of attrition with Toyota by giving Caddy a strong enough lineup to overtake Lexus as the 4th biggest luxury automaker. So, does that make the ATS, rather than a 3 Series killer — actually an IS-killer?
---
5th Gear: GM May Take 7% Stake In Peugeot
Speaking of the French. According to Bloomberg, Peugeot may announce this week plans to sell a 7% stake in the French carmaker to General Motors as part of a development alliance. The deal would involve a standstill agreement by which GM would not take a greater holding in the Paris-based carmaker without permission, said people familiar with the discussions, who asked not to be identified because the talks are private. Peugeot may offer additional shares through a rights issue as part of the transaction, the people said.
---
6th Gear: Nissan Accidentally Reveals 2013 Altima
Fans of random Japanese automaker videos like the fine folks at InsideLine have noticed something special in this video celebrating 30 years of the Nissan Technical Center. Specifically, the 2013 Nissan Altima without all the gaudy camo. Still looks beefy.
---
Reverse:
⏎ Crashing The 2012 Camaro ZL1 [Cars.About.com]
⏎ February Focus sales double over last year. [Detroit News]
⏎ A Campaign From Jaguar to Show Its Wild Side. [New York Times]
⏎ Ford touts transportation teamwork. [Detroit News]
⏎ Nissan Hi-Cross concept points to smoother, sleeker new-gen 2013 X-Trail compact SUV [GoAuto]
⏎ The Milhous Collection, a Catalog of Wonders, Is Liquidated for $38.3 Million. [New York Times]
---
Today in Automotive History:
Mario Andretti, whose name will become synonymous with American auto racing, is born in Montona, Italy, on February 28, 1940. In a career that spanned five decades, Andretti was known for his versatility as a driver, taking the checkered flag behind the wheel of sports cars, sprint cars and stock cars on a variety of race courses. His long list of achievements includes a Formula One World Championship, four Champ Car National Championships (1965, 1966, 1969, 1984), three 12 Hours of Sebring victories (1967, 1970, 1972) and wins at the Indianapolis 500, the Daytona 500 and the Pikes Peak International Hill Climb. [History]
Show us your tips!
Got tips for our editors? Want to anonymously dish some dirt on a competitor? Know something about a secret car? Email us at tips@jalopnik.com.
Lost in our new layout?
Click here for the Opposite Lock or Tips forums. Want a more "blog-like" look? Click the button up top next to "Top Stories."
Get more Jalopnik!
Want even more Jalopnik? Want to know which of your friends read us? "Like" us on Facebook and follow us on Twitter.