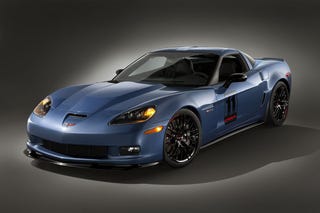 Are you a track day fiend looking for a Corvette Z06 dressed up in carbon fiber tchotchkes and ceramic brakes like its bigger, badder brother, the Corvette ZR1? Enter the Corvette Z06 Carbon Edition.
Add carbon fiber and ceramic brakes to an F-150 and you've still got a big truck. Add the same upgrades to the race-focused 'Vette and you're shaving seconds and breaking hearts with the Corvette Z06 Carbon Edition. It's an upgrade that finally helps the Z06 live up to its atomic number (for all you non-math nerds, Z is another way of saying "atomic number" and "6" is the atomic number for the element Carbon. Jeez, do we have to spell everything out?).
Other outlets may point out the Corvette Z06 Carbon "slots," or creates another notch, between the Z06 and the Corvette ZR1. While sure, this is technically true, you've got to look past the in-market-car-salesman-what-slots-where-approach and appreciate how GM's actually gving their track-loving customers something utilitarian. Despite the ZR1 being the top of the Corvette food chain, when you go to a weekend autocross or local 'Vette club track day — it's the Z06 owners sweating the clock. Not the ZR1 owners.
To help them out, Chevy's giving the Z06 Carbon Brembo carbon ceramic brakes from its boisterous brother ZR1 for better stopping, enhanced cooling for bigger performance, and carbon fiber touches for lower weight. You could argue the black 20-spoke 19-inch/20-inch wheels front-and-back wrapped in Michelin PS2 tires are for better stance and traction but let's be honest, they just look good.
Speaking of looking good, this edition will be available in either Inferno Orange or something called all-new Supersonic Blue with black headlamps and mirrors, ZR1-style spoiler, and even Euro-styled racing numbers. And in case you want all of this without snagging all the attention, both the performance upgrades and aesthetic upgrades can be ordered separately for the Z06.
Paying homage to the debut of the Corvette at Le Mans with Briggs Cunningham and John Fitch 50 years ago with a carbon fiber-themed package that isn't tacky or awful. How'd they pull that off?