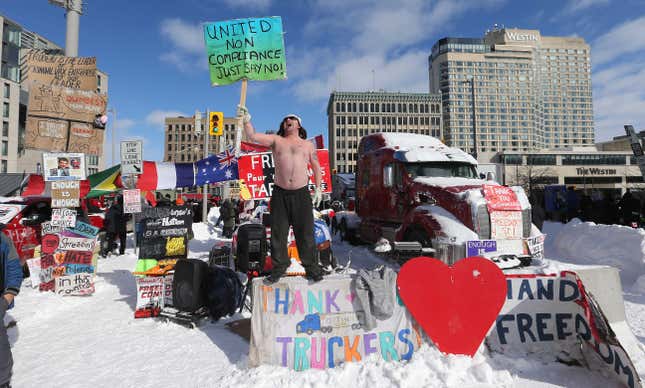 You guys, the Canadian Freedom Convoy is back. Well, sort of. This past weekend marked the first anniversary of the arrival of hundreds of trucker drivers and thousands of supporters in Ottawa after a cross-country trip. The protestors shut down the city for three weeks, terrorizing residents, peeing on war memorials, and making life for average Canadians a nightmare.

Dozens of protestors came together this weekend on Parliamentary Hill—the home of the Parliament of Canada—to relive the good old days of being a terror and a nuisance over, among other things, vaccine mandates for truckers crossing into and out of the U.S. By Sunday afternoon, police had arrested two protestors, issued 192 parking tickets and 67 provincial offenses plus towed 23 vehicles at the anemic gathering, according to The Canadian Press. A convoy of vehicles did try to muscle its way into downtown, but police managed to divert the protestors.
This time last January the Convoy descended on downtown Ottawa and centered around a nearly empty parliamentary building. The official line from police is that they believed Freedom Convoy organizers when they said downtown streets would only be occupied for a weekend. But public social media posts made by organizers contradicted that shaky promise. To some Ottawa residents, police inaction seemed intentional, as police continued to mainly ticket cars outside of the protest area in the early days of the seige. An investigation into officers leaking information to protestors is on going, but we know at least 15 Canadian police officers were found to have donated to the movement.
Really, police at any time could have arrested truckers or towed their vehicles based on existing laws—especially after a related group of protestors attacked police and shut down important international border crossings, like the Ambassador bridge, for days at a time. Instead, police hemmed and hawed, attempting to cut off protestors' diesel supply while they waited for the federal government to invoke the Emergencies Act, granting the feds extraordinary—and temporary—powers to deal with a crisis. The delay in police action soured residents on Police Chief Peter Sloly, who resigned shortly before the crackdown.
The federal government invoked the Emergencies Act after citizens came forward detailing what it was like living under the siege, from Global News:
The Emergencies Act public inquiry late last year heard repeated testimony from residents who described being harassed for wearing masks, and hearing fireworks pinged off their windows as they tried to sleep. The Children's Hospital of Eastern Ontario confirmed families missed children's chemotherapy appointments as trucks blocked city streets.

Some downtown residents described sleeping in parking garages to escape the incessant honking, and those with homes close to the ground floor said they felt the impact of diesel fumes on asthma and breathing difficulties.

[...]

In the year since the convoy, many Ottawa residents have expressed how hard it is for them to shake a feeling of unease. During the official inquiry into the protests, locals described the lingering trauma they continue to experience.
Even then, protestors were given plenty of heads up before the crackdowns began, with police giving protestors one more chance to vacate via flyers of coming arrests. When the crackdown came, Police seized hundreds of vehicles, arrested organizers, and handed out over $350,000 CAD in tickets, approximately $141,000 of which go unpaid to this day, according to CBC. The organizers of the convoy bailed out of jail this past summer, and their cases are slowly winding through the halls of justice.
The Freedom Convoy inspired a similar American movement this past spring. Dubbed the People's Convoy, it was a urine-scented debacle with all the charm of a carnival sideshow. It lasted about as long as the Freedom Convoy, but without actually shutting down the already congested streets of Washington D.C. Some shreds of the convoy reformed at the 1776 Restoration Movement, which is still out there doing ridiculous shit. Like in September when they flooded a crisis help line meant for suicidal veterans with prank phone calls. Or in November, only six members of the 1776RM stood outside of Union Station in D.C. to protest Biden's motorcade. The meager gathering couldn't even get a good chant going, the Daily Beast reports.