Cope North is one of the largest multi-national air power exercises in the Eastern Hemisphere. Every year, air forces from around the region deploy to Andersen AFB, located on the island of Guam to sharpen their skills, hone their inter-operational abilities and strengthen foreign ties among established and emerging power players in the region.
Cope North '15 kicked off with Australia, Japan, South Korea, New Zealand and the Philippines flying in aircraft and crews for the exercise. Singapore and Vietnam are acting as formal observers, but haven't deployed aircraft. In total, over 100 aircraft and 2,000 personnel are taking part in the elaborate exercise.
G/O Media may get a commission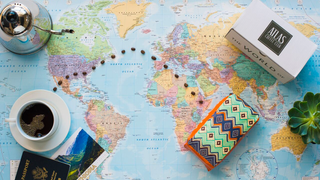 First Bag Free
Atlas Coffee Club - Free Coffee
Explore global coffee
With each bag, Atlas includes details on the coffee's tasting notes and a postcard about the region and its coffee history. And when you subscribe, you have options to tailor frequency, grind size, and roast preference of your beans, so you'll always be brewing the perfect cup.
There are two key parts to this year's Cope North game plan. One is focused on humanitarian assistance and disaster relief operations, including opening an airport under austere conditions, setting up a logistical train, and evacuating medical patients. This part of the exercise saw tactical and strategic transports and helicopters put to work as if a major disaster were to have hit the region. Along with Guam, the nearby islands of Tinian and Rota were used a austere operating locations.
Capt. Mark Nexon, the Cope North 2015 humanitarian aid & disaster response mission commander said of the exercises:
The Pacific theater and Pacific Command cover an enormous span of area, and every day we're encountering new issues. Natural disasters are very common as there's a lot of volcanic activity, there's earthquakes, tsunamis and typhoons that remain a threat throughout the region, so practicing our capabilities and improving our capacities, and not just the United States, but all our partners in the region working together, we can cover more area together.
The second element of the exercise is all about air combat, with F-16s, F-15s, F/A-18s, EA-18s, F-2s, and B-52s making up the allied "shooting" contingent of the force and support coming from KC-135s, KC-330s and E-3s. The 18th Aggressor Squadron from Alaska, with their eclectically painted F-16s, are playing the role of bad guys for the exercise. Air-to-air and air-to-ground missions are both part of the program, culminating in a large force employment campaign scenario towards the end of the exercise.
Col. David Mineau, the Cope North 2015 exercise director, described the overall aims of the massive exercise:
It's important, so we can learn from each other. All of our forces have strengths and weak areas, but coming together, we can hone our abilities by listening to each other, increasing our interoperability and sharing techniques, tactics and procedures to make us more effective and to promote peace and stability in the region.
Cope North has been held annually at Andersen AFB since 1999. Before that, Japan hosted the event, sometimes putting it on multiple times in a single year. As the Pacific theater becomes more contested and emerges as a greater focus for the US, these international cooperative drills, and others like it, will be indispensable when it comes to counter-balancing the rise of China's military might in the region.
Source: USAF. Photos Via USAF and RAAF.
Tyler Rogoway is a defense journalist and photographer who maintains the website Foxtrot Alpha for Jalopnik.com You can reach Tyler with story ideas or direct comments regarding this or any other defense topic via the email address Tyler@Jalopnik.com