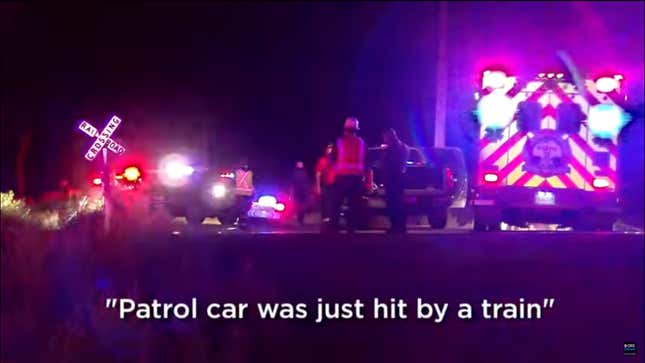 Jordan Steinke, the former Colorado police officer who left a handcuffed suspect in her patrol vehicle, which was later hit by a train, was found guilty of reckless endangerment and assault. She won't, however, receive any jail time. The Denver Post reports that instead, she has been sentenced to 30 months of probation and given 100 hours of community service. She was also acquitted of attempted criminally negligent homicide.
Due to the third-degree assault conviction, Steinke's Peace Officer Standards and Training certification is expected to be revoked. "Decertification, which we anticipate, means she will never be a police officer ever again," her lawyer said in a statement. Cue an even smaller version of the world's smallest violin.

Weld County District Court Judge Timothy Kerns said on Friday that he had originally planned to sentence Steinke to jail time to "send a message to law enforcement that police officers will be held accountable for misconduct," but changed his mind when both the prosecution and defense requested probation instead.
"Someone is going to hear this and say, 'Another officer gets off,'" Kerns said. "That's not the facts of this case. And the court is framing a sentence that hopefully will ensure we can have some meaningful educational component. If there is a violation, Ms. Steinke, I will harken back to my original gut response as to how to address sentencing. I want to be clear about that."
The victim, Yareni Rios-Gonzalez, somehow survived the crash, but according to her lawyer, she still suffers from a head injury and other physical injuries. He added that the crash had caused her to lose confidence in the judicial system but also left her unsure of what Steinke's punishment should be.
"The conflict that she feels is one where every day she has to feel this pain," he said in a statement. "And she's had to deal with (doctor) appointments and having her life so radically changed. And feeling upset, very upset about that — angry about that — but on the other hand, feeling for Ms. Steinke, and, I think, truly empathetically feeling sorry for how she has lost her career."