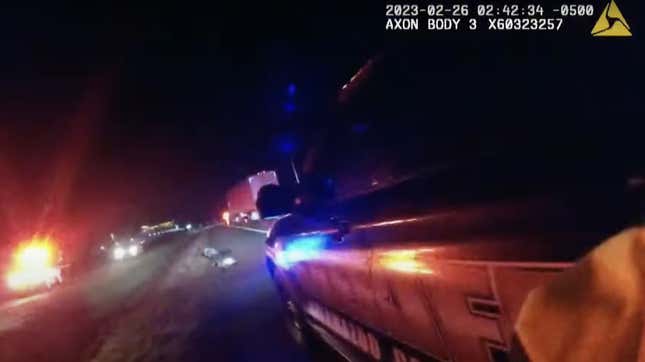 Another allegedly drunk driving cop, this time in the fun-to-say town of Kalamazoo, Michigan, hit speeds between 96 and 99 mph before he rear-ended another driver on a 55-mph stretch of highway in February of this year.
We're Driving the 2024 Integra Type S, What Do You Want to Know?
Mark Lillywhite works for St. Joseph County Sheriff Office 45 miles south of Kalamazoo township. Incredibly, no one was injured in the early morning February 26 crash, though the vehicle Lillywhite struck flipped several times before coming to rest in a grassy median on southbound U.S. 131 in Kalamazoo. He crashed into the back of another car in his personal vehicle without ever tapping the brakes, Michigan State Police found after analyzing the car's onboard computer. The data also showed that Lillywhite was not using a seatbelt at the time of the crash. And that's not all, from MLive:
Lillywhite's St. Joseph County Sheriff's badge was in center console, along with a loaded pistol, the report said. Two more guns – a rifle and a pistol, both with magazines – were found in his trunk.

An odor of alcohol could be smelled when a trooper opened the door of Lillywhite's SUV, the report said. He also had bloodshot eyes, slurred speech and staggered while he walked.

Lillywhite declined a preliminary breath test at 3:15 a.m., by saying, "Nope," the report said.

[...]

The vehicle Lillywhite hit rolled an unknown number of times before stopping in the median, per the report. A woman in another car went to Lillywhite to ask where they were so she could tell 911.

Lillywhite was "trashed" and "he kept rocking back and forth and was slurring his speech," the woman told police.

Lillywhite denied driving the vehicle, but no one was seen exiting his vehicle or fleeing the scene. South Kalamazoo County Fire Authority Battalion Chief Shawn Westfall did see Lillywhite climb from the driver's seat to the passenger seat however. It's unclear if Lillywhite still has a job, but he's currently facing several charges, according to MLive:
Potential charges could include operating while intoxicated, possession of firearms while under the influence and reckless driving, according to the police report. The Kalamazoo County Prosecutor's Office has not received the case to make a charging decision, Chief Assistant Prosecutor Jeff Williams said.
Drunk driving is one of those laws that is both incredibly important to public safety and easily broken by even law enforcement officers. For instance, seven Los Angeles Police Department officers were tagged for DUIs in the first few weeks of December last year. A SWAT officer who drove drunk to a gun range actually managed to get his job back last year.