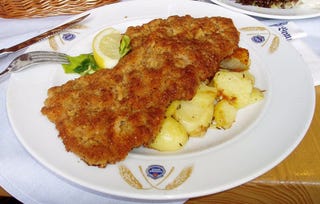 My grandmother is German. Like, German-German. She was born in Germany and then moved here after the war. Growing up between Austria and Germany, she had a simple and delicious Wiener Schnitzel recipe. It's essentially veal thin-sliced, covered in breadcrumbs, fried and garnished with lemon. My mother didn't eat veal so she typically served it with pounded pork, making it a variation of Schnitzel. The first time I saw a Wienerschnitzel restaurant, which serves hot dogs, I was perplexed. This feeling of confusion was replaced later in life by the recognition of many other dishes clearly derived from the German-Austrian schnitzel. My first visit to beautiful Iowa included a pork tenderloin sandwich delightfully similar to the dish I knew from my grandmother. In Texas, country-fried steak also bears a remarkable resemblance to Wiener Schnitzel due in part, no doubt, to the influence of German/Austrian settlers. The new BMW X6 M is another bulky German treat, but Ash78 has a beef with it.
No, I don't want SAC of Scheiss
Not Braun, not Schwartz or even Weiss
I would not drive it to the store
Or 7th Ave to pick up whores
I would not drive it up to work
Steroidal schwein is still just pork
Are we the only ones more interested in the prospect of dinner than the chance for whore-shopping?
Photo Credit: Edu Blogs