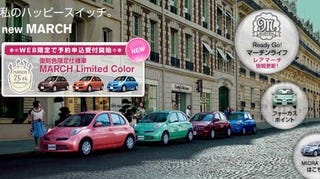 As Señor Loverman is off looking for a $150 WRX to run in next year's 24 Hours of LeMons race (we'll need the other $350 for a huge PA system that will blast death metal at the other drivers), I'm handling COTD duties today. Going by the Thomas Edison inspiration-to-perspiration-ratio maxim (yet eschewing the IV cocaine boost that gave Mr. Edison that extra zip for those all-nighters), I've decided to give today's award to a commenter who provided the perspiration via a ton of research legwork and the inspiration to gather the results into a coherent whole...
and that commenter is Akirachan! Akirachan, upon seeing today's QOTD (Which JDM Car Do You Most Want Sold In The States?), went and picked out a Top Ten list... with URLs for each entry! Here's the comment that wins the COTD glory:

I like a lot of the cars mentioned, although some are not made anymore ( Mazda Cosmo, suzuki cappucino, etc), but I have to agree with them... Here are some interesting cars:
1. Suzuki Swift Sports [www.suzuki.co.jp]
2. Daihatsu Copen [www.daihatsu.co.jp]
3. Nissan March/Micra [www2.nissan.co.jp]
4. Nissan President (At least a cool name!) [www.nissan.co.jp]
5. Toyota Century [toyota.jp]
6. Toyota Ractis [toyota.jp]
7. Toyota Rush ( for those old-school prog-rock fans!) [toyota.jp]
8. Honda Stream [www.honda.co.jp]
9. Mitsubishi Colt Rallyart [www.mitsubishi-motors.co.jp]
10. Honda Zest [www.honda.co.jp]

Speaking of discontinued cars, I think this one is the mack-daddiest: Mitsubishi Debonair [en.wikipedia.org]

Yes, taking the time to track down the manufacturer's site for each vehicle shows the kind of spirit we appreciate around these parts... particularly if it was done while at work!