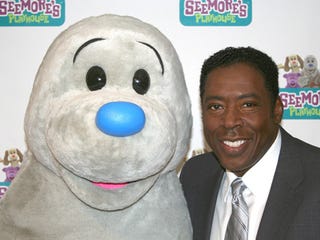 Born in Benton Harbor, Michigan, Ernie Hudson has had an interesting career. After serving in the U.S. Marine Corps, Hudson became the resident playwright at Concept East in Detroit. While at Wayne State University Hudson formed the Actors' Ensemble Theatre where black writers and actors were able to workshop and produce their plays. He later studied and graduated from the Yale School of Drama. Despite his extensive stage training, he's best known for his tv work on the HBO show Oz and film work as Winston Zeddemore in Ghostbusters and the sequel. We're huge fans of Ghostbusters and, as we learned in the Giant Asimo Robot post, Ash78 is also a fan.
Alan Mulally: My mind is totally blank.
Bob Nardelli: I didn't choose anything...
Both: (turn to look at Wagoner): Rick?
Wagoner: I couldn't help it. It just popped in there.
Mulally: What? What "just popped in there?"
Wagoner: I... I... I tried to think...
Nardelli: LOOK!
[they all look over one side of the roof]
Wagoner: No! It CAN'T be!
Mulally: What is it?
Wagoner: It CAN'T be!
Mulally: What did you DO, Rick?
Nardelli: Oh, shit!
[they all see a giant cubic white head topped with a spaceman helmet, Mulally looks at Wagoner]
Wagoner: It's the Honda Asimo.
Mulallyy: Well, that's something you don't see every day.
Wagoner: I tried to think of the most harmless thing. Something that I loved from the '90s. Something that would never ever possibly destroy us. Asimo.
Mulally: Nice thinking, Rick.
Wagoner: We used to watch Asimo dance and climb stairs...internet videos.
Mulally: Rick has gone bye-bye, Bob. What have you got left?
Nardelli: Sorry, Mulally. I'm terrified beyond the capacity for rational thought.
Jim Press was later seen asking strangers if they were the keymaster.
Photo: Seemores Playhouse