As part of our Are You Faster Than A Jalopnik Writer? karting event (RSVP here) at Autobahn Indoor Speedway on Sunday, October 23rd, we'll be giving the profits from the event to the RPM Foundation to help one of three worthy students devoted to automotive restoration. Help us pick which student to support below.
If you missed the many posts, we'll be having a karting race with readers and writers at Autobahn Indoor Speedway at the Palisades Mall outside of NYC on October 23rd. There will be racing, food, fun, freebies and prizes courtesy of Blipshift.
The tickets are only $55 and much of that will be going towards helping fund one of the following students through the RPM foundation, which is helping support the next generation of automotive restoration and preservation craftsmen through formal training and mentorship.
Read the descriptions and help us choose who to support by voting below.
Jacob San Martin, McPherson College
"I was born into the automotive lifestyle," says Jacob San Martin, a junior in the Automotive Restoration program at McPherson College, in McPherson, Kansas. As a child he drew classic cars he saw in magazines and on the road, which led him to begin pinstriping at twelve years old. Throughout high school, he spent his spare time working on all kinds of classic cars and pinstriping.
When he was three years old, his father told him the 1953 Chevy Coupe in the driveway would be his. Father and son worked on that project through the years and Jacob completed it his senior year and proudly drove it to his winter formal and prom.

Jacob learned of McPherson College and knew he could combine his love of cars and desire to earn a bachelor's degree. It was the only school he applied to and he was thrilled when he was accepted. Wasting no time once he was on campus, Jacob joined a small group of other first- year students in building a Model T Speedster body from scratch. They spent an entire semester building the body in time to premiere it at the college's annual car show.

During his sophomore year, Jacob teamed up with two good friends to take on a project to build a board track racer. They pitched the idea to get funding, did all of the project planning and budgeting, and managed the project through to completion. It took more than 1000 hours outside of class.

Jacob has interned at Kiwi Indian Motorcycle in Riverside, California, and the Nethercutt Collection in Sylmar, California. In addition to his studies, other projects, and playing upright bass in the college jazz band, Jacob's side business is San Martin Pinstriping. His dream job after graduation would be to work at the Nethercutt Collection.
G/O Media may get a commission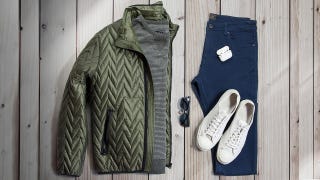 60% off
Jachs NY Fall Sale 60% Off
---
Jonathon Camper, College of Charleston
Jonathon Camper enlisted in the Army in 2006 at the age of 20. He completed basic training at Fort Leonardwood, Missouri and went on to the Defense Language Institute in Monterey, California where he studied Korean, and then Goodfellow Airforce Base for advanced individual training. From May 2009 to September 2009 Camper was deployed to Iraq, then redeployed again to Afghanistan from April 2011 to April 2012. Camper honorably exited the Army in April 2013, and was accepted into the College of Charleston's B.A. in Historic Preservation/Community Planning program, and is a senior.

He has supported himself by working at the local Wal-Mart's lawn and garden shop, and was later promoted to the Asset Protection position. Camper's favorite car is a 2012 Dodge Challenger, which he has "paid off."

Camper has taken numerous classes at the College of Charleston; but most significantly he is enrolled in the American Automotive History & Documentation course. Within the class the he is conducting an in-depth study of the Anderson automobile – South Carolina's only historic automotive manufacturer, which flourished during the 1910s and 1920s. The final project will be submitted to the Library of Congress, and the best-preserved Anderson (from his work) will be nominated to the National Historic Vehicle Register, established by the Department of the Interior and the Historic Vehicle Association.

Besides research and writing, Camper's tasks have also included conducting a detailed assessment of the best surviving Anderson for purposes of creating scaled measured engineering drawings needed for the NHVR nomination, as well as information for the FIVA ID card. In November 2016, Camper will participate in the Hilton Head Island Motoring Festival & Concours de'Elegance as an Apprentice Judge.

Camper strives to have a successful career in historic preservation, with a preference related to automotive heritage.
---
Anthony Di Liberto, Pennsylvania College of Technology
The hum of an engine is the soundtrack to my life. Whether it be late model cars or fully custom built, highly modified cars, I do not know a world without the sound of a hot rod purring in the background.

From a young age I knew that my future would hold a promising career in the automotive industry, but it was not until freshman year of high school when I first picked up a pinstriping brush, after repeatedly being exposed to the art form at various car shows throughout the years. I quickly grew to be proficient in the classic art of hand lettering and pinstriping, at which point I started my own business doing commercial hand painted lettering along with pinstriping for a vast clientele.

It was from the fruits of my labor that I was able to acquire my beloved 1962 Chrysler Newport as my first car. I have since modified the grille, metal flaked the top, lowered and equipped it with a full dual straight piped exhaust — all in my parents' driveway in my sleepy little hometown.

My artwork has graced the covers and centerfolds of many reputable magazines and newspapers, including Hot Rod Magazine and The New York Times. As of August of 2016, I began my new career as a freshman at Pennsylvania College of Technology studying Automotive Restoration.

I take great pride in knowing that upon my graduation in May of 2018 I will begin to pursue my dream job of working full time in a hot rod or speed and custom shop, building one-of-a-kind works of art.
---
All of these students applied to the RPM Foundation for funding of their projects and we'll be helping provide some of the money from this event. Please vote for one of them below:
Voting will end Friday, October 21st at 3 p.m. EST. And make to RSVP so you can come karting with us! Have I mentioned that yet?