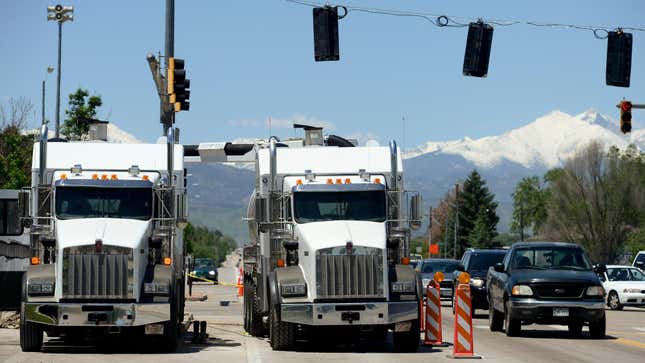 A bill is heading to the Colorado governor's desk this week that would make driving a semi tractor-trailer without a CDL license a $100 ticket. The bill is coming up near the one-year anniversary of an unlicensed semi driver killing a family of five in the state.
Chase Elliott Explains the Challenge of Adapting to NASCAR's Next Gen Car
Surprisingly, the bill originally introduced by Republican State Rep. Matt Soper was an effort to raise the fine for improperly licensed truck drivers, CBS News reports, but, instead, lawmakers lowered the penalty in line with the fine issued to drivers of passenger cars who aren't properly licensed.
CBS spoke to Desiree Everts, whose family was killed on I-25 in Colorado by a semi driver who was not properly licensed in June of 2022:
"We don't celebrate holidays. We don't do a lot things we used to do. All the negligence of it just sickens me," Everts said.

State lawmakers' response, she says, is sickening too. They're poised to pass a bill making driving without a CDL a traffic infraction with a $100 fine.

"We've equivocated driving an 80,000-pound vehicle with a penalty of actually driving a Prius," said Greg Fulton with the Colorado Motor Carriers Association. Previously, the penalty was a misdemeanor with possible jail time. Fulton says a CDL not only ensures training but drug testing.


[...]

Fulton says the stakes are too high to wait: "For God's sake, public safety should be at the top of our agenda down here."
The Colorado Motor Carriers Association is against this bill, as is the representative that brought the bill to the Senate floor. But America is also currently experimenting with allowing 18-year-olds to drive long-haul interstate routes in the name of solving a so-called trucker shortage, so in many ways what's being proposed in Colorado isn't totally unexpected.
Still, Colorado is home to some very intense driving, considering the Rocky Mountains cut through the state. One semi truck driver killed four people in 2o21 after his brakes failed on I-70 in Denver, leading to a 110-year prison sentence. Colorado is also home to Highway 550, widely considered one of the most dangerous stretches of road for truck drivers with its twists, turns, and high elevation.
The bill could go to Colorado Gov. Jared Polis this week. State Rep. Soper told CBS he plans to make another attempt at stricter penalties in the next session.