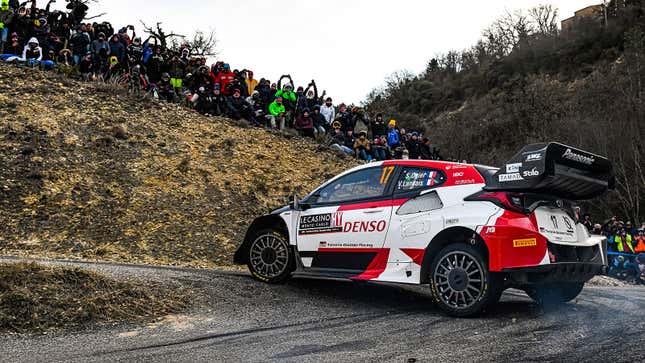 Last weekend's Monte Carlo Rally was a decidedly snow-free affair, in much the same way 2022's Monte Carlo Rally was. In recent years, the World Rally Championship has had to face the realities of global warming, having moved Rally Sweden up north by 500 miles last season to ensure wintry stages. The WRC doesn't appear to want to do that for Monte, however, even at the behest of its drivers.

Motorsport.com reported Wednesday that a change in location doesn't seem likely, at least not yet. More than anything, the sport doesn't appear ready to call the lack of snow and ice anything other than a fluke:
When asked if changes to the route were being considered, [WRC event director Simon Larkin] added: "No, I think anyone who skis knows there are entire ski resorts without any snow. The entire ski season has been a disaster up until now. I know there is some snow falling now.

"I think this year is a bit of an anomaly and very, very unusual. We can see how cold it was even on Thursday and it was cold at night, but the fact there hasn't been snow is just that."
The fickle nature of Monte's climate — any number of stages could be dry, wet, snowy or icy — has always been key to the event's appeal. That does mean that you get some years with less frozen precipitation than others. But climate change will make those years more frequent, until it makes them unavoidable. At which point, the WRC may have a real decision on its hands.

The WRC may simply decide to leave the rally where it is to retain iconic stages like Col de Turini and for the spectacle of setting the service park in the harbor, as organizers chose to do this year. It can get its snow rally fix elsewhere, via relocated Sweden and the Arctic Rally Finland, which replaced Sweden on the calendar in 2021 when that event was canceled due to COVID-19.
If left to the drivers, though, the choice wouldn't be a difficult one.
Sebastien Ogier is keen for the rally to move further north to provide an added challenge.

"Unfortunately when you do the rally mainly in the south like we have done since last year there is a big chance that this can happen [there being no snow and ice]," said Ogier.

"Global warming is there, unfortunately we know that. I don't really want to say this because I come from there but I think we all missed [the northern town of] Gap and not just there but around there, there is the potential for some great stages.

"I heard that maybe there is chance it could come back there. I'm sure it would add some more excitement with this rally and I'm sure the fans would like to see us battling the conditions and battling with tyre choices."

Hyundai's Thierry Neuville agrees with Ogier and would even entertain driving longer road sections if organisers wish to keep the service park on the Monaco harbour front.

"It can still be Monaco but we need to have the stages more in the north," he said. "Monte Carlo without snow is not the same."
These guys know what they're talking about; I'd listen to them if I were you, WRC.