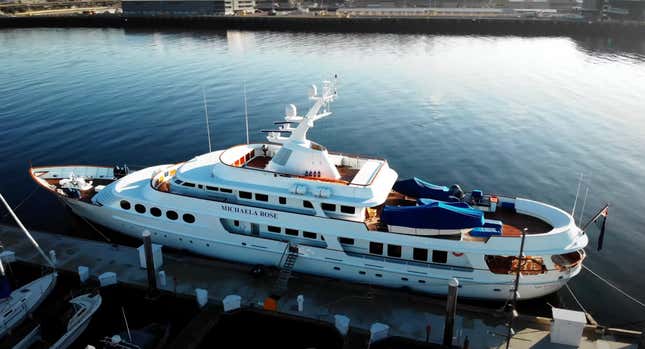 Supreme Court Justice Clarence Thomas is once again in hot water for seeming ethics violations, this time, instead of getting all tangled up in his wife's election denialism, he's allegedly taken lavish, undisclosed vacations on a superyacht and private jet, on the dime of a republican megadonor.
Updated Friday, April 7, 2023 3:30 p.m EST - Thomas released this statement in response to Pro Publica's reporting, according to the Hill:
Early in my tenure at the Court, I sought guidance from my colleagues and others in the judiciary, and was advised that this sort of personal hospitality from close personal friends, who did not have business before the Court, was not reportable. I have endeavored to follow that counsel throughout my tenure, and have always sought to comply with the disclosure guidelines," Thomas said in a statement, his first public comments since the report.

Every year for at least two decades, Thomas and his wife Ginni Thomas, have flit around the world under the gracious funding of billionaire Harlan Crow. The Thomases took Crow's private plane to exotic locals before boarding the Michaela Rose—Crow's mega yacht. This is a huge problem, as Pro Publica's latest bombshell report makes clear:
For more than two decades, Thomas has accepted luxury trips virtually every year from the Dallas businessman without disclosing them, documents and interviews show. A public servant who has a salary of $285,000, he has vacationed on Crow's superyacht around the globe. He flies on Crow's Bombardier Global 5000 jet. He has gone with Crow to the Bohemian Grove, the exclusive California all-male retreat, and to Crow's sprawling ranch in East Texas. And Thomas typically spends about a week every summer at Crow's private resort in the Adirondacks.

The extent and frequency of Crow's apparent gifts to Thomas have no known precedent in the modern history of the U.S. Supreme Court.

These trips appeared nowhere on Thomas' financial disclosures. His failure to report the flights appears to violate a law passed after Watergate that requires justices, judges, members of Congress and federal officials to disclose most gifts, two ethics law experts said. He also should have disclosed his trips on the yacht, these experts said.

He really should have disclosed these yacht trips. The Michaela Rose isn't just an afternoon pontoon pleasure craft after all—at 162 feet, the Rose is one of the largest superyachts in the world, and has been in the Crow family since it was completed in 1984. It houses a crew of 13 and can accommodate 16 guests, according to Boat International. The Rose is in the top 10 percent of yachts in the world based on overall length. The two Deutz diesel engines can push the Rose to up to 16 knots.
Thomas likely knows all of this, considering the amount of time he's spent on Crow's boat. From Pro Publica:
To trace Thomas' trips around the world on Crow's superyacht, ProPublica spoke to more than 15 former yacht workers and tour guides and obtained records documenting the ship's travels.

On the Indonesia trip in the summer of 2019, Thomas flew to the country on Crow's jet, according to another passenger on the plane. Clarence and Ginni Thomas were traveling with Crow and his wife, Kathy. Crow's yacht, the Michaela Rose, decked out with motorboats and a giant inflatable rubber duck, met the travelers at a fishing town on the island of Flores.

[...]

The Indonesia vacation wasn't Thomas' first time on the Michaela Rose. He went on a river day trip around Savannah, Georgia, and an extended cruise in New Zealand roughly a decade ago.

[...]

There's evidence Thomas has taken even more trips on the superyacht. Crow often gave his guests custom polo shirts commemorating their vacations, according to staff. ProPublica found photographs of Thomas wearing at least two of those shirts. In one, he wears a blue polo shirt embroidered with the Michaela Rose's logo and the words "March 2007" and "Greek Islands."
But what's the problem? It's not like there's a law requiring such lavish trips—or any gifts over $415 value—be publicly reported.
Oh wait, there is? Damn.
"If Justice Thomas received free travel on private planes and yachts, failure to report the gifts is a violation of the disclosure law," said Kedric Payne, senior director for ethics at the nonprofit government watchdog Campaign Legal Center. (Thomas himself once reported receiving a private jet trip from Crow, on his disclosure for 1997.)

Thomas also made extensive use of Crow's private plane. The justice declined to comment for Pro Publica report, but Crow did give the outlet a statement acknowledging the "hospitality" shown to the Thomases. Crow says they never inquired about political or legal issues with Thomas and his wife, but the billionaire did donate $500,000 to a political group started by Ginni Thomas and has donated millions to Republican causes in the past.
The entire report is wild and well worth your time. All members of our judicial branch need to be held to the highest of standards in accordance with ethics and the law to ensure public trust in our institutions, and that goes doubly for the highest court in the land. Considering Thomas is still experiencing the fallout from his conspiracy theory-loon of a wife meddling in the 2020 election, maybe it's time for him to finally take a hint.