A civilian was reportedly injured late last month after his ride-along with the French Air Force took an unexpected turn. The man's ejection seat somehow fired, sending him soaring into the sky. The French temporarily grounded their fleet of Rafale fighter jets pending an investigation.
Exactly why his ejection seat went off is a mystery.
The incident, according to Aerotime News, took place at Saint-Dizier air base in northern France. Saint-Dizier is a hub for Rafale-B fighters, the twin seat version of France's Rafale fighter jet. Twin seat fighters in many air forces are used to take civilians on "observation flights," including government officials, members of the media, and celebrities.
(While the American F-35 has many problems, accidentally ejecting civilians won't be one of them—the Joint Strike Fighter is a single seat jet.)
The unknown civilian, identified in the press as a 64 year old man, was riding in a twin-seat Dassault Rafale-B fighter jet. As the jet was taking off the man's ejection seat sequence was somehow triggered, sending him through the canopy. The pilot, whose hands were suffered minor cuts from the broken canopy, managed to land the aircraft safely.
G/O Media may get a commission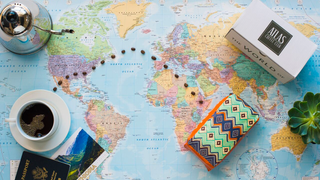 First Bag Free
Atlas Coffee Club - Free Coffee
Explore global coffee
With each bag, Atlas includes details on the coffee's tasting notes and a postcard about the region and its coffee history. And when you subscribe, you have options to tailor frequency, grind size, and roast preference of your beans, so you'll always be brewing the perfect cup.
The civilian on the other hand apparently parachuted to the runway below, injuring his back in the process. He was taken to a hospital for his injuries, where a spokesperson for the French Air Force said his health "is not a cause for concern." The Rafale grounding was lifted a few days later.
This isn't video from our poor French friend being ejected, but it is a video of what someone being ejected should look like:
It's unclear exactly what happened, and the French issued a partial grounding for the Rafale out of caution. Most, if not all, fighters have a very deliberate process air crew have to go through to trigger an ejection. Typically the ejection seat trigger is between a pilot's legs or above his or her head, and a quick pull will send the crew member rocketing out of dying aircraft. The Rafale-B uses the Martin Baker Mk. 16F ejection seat, and according to Martin Baker it has saved four lives.
In this case however the Rafale-B was operating perfectly normally. One possibility was that there was a problem with the ejection seat that caused it to go off. Another possibility is that the civilian triggered the ejection accidentally, perhaps holding onto exactly the wrong part of the aircraft while experiencing the thrill of takeoff. Or maybe he did it on purpose, thinking this was his one shot in life to shoot himself out of an airplane and he was going to take it.
If so, Foxtrot Alpha applauds him.