October 28, 2013 , Toronto - Rarely have vehicles created a new segment, stood the test of time and become so much a part of so many Canadian families as the Dodge Grand Caravan and Chrysler Town & Country. The Windsor, Ontario-built minivans officially celebrate their 30th anniversary on November 3, 2013.
To commemorate the milestone anniversary, The Chrysler Foundation partnered with Canstruction®, an international organization dedicated to raising awareness of hunger and poverty issues, along with the importance of science, technology, engineering, math principals and community service. A life-size replica of a 2014 Dodge Grand Caravan was built in Toronto's famous Yonge-Dundas Square, made entirely out of packaged food products.
It took 30 volunteers – including local high school and university students — more than 10 hours to build the 30,000-can sculpture, which will be on display in Toronto, Monday, October 28, and Tuesday, October 29.
Once dismantled, the food products will be donated to Daily Bread Food Bank, which provides food to more than 200 food banks and meal programs across Toronto. This donation will provide 2,000 food hampers for people who rely daily on local food banks. Daily Bread says the average food bank client spends more than 70 percent of their income on housing, leaving less than six dollars a day for food, transportation, clothing and other basic needs. One-third of people who rely on food banks are children.
A 30th anniversary 2014 Dodge Grand Caravan will also be on display at the site, to serve as a collection bin for a community food drive, also benefitting Daily Bread Food Bank.
G/O Media may get a commission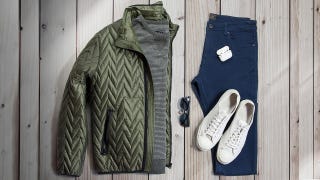 60% off
Jachs NY Fall Sale 60% Off
"We created the minivan segment 30 years ago, and since then more than 13 million customers around the world have entrusted Dodge and Chrysler minivans with their family transportation needs," said Reid Bigland, President and CEO, Chrysler Canada. "Not only does this Canstruction project give a nod to a milestone anniversary for some of our most important products, but it also serves as a tool to raise awareness for issues of hunger and poverty within our country. At the same time, it demonstrates to the students involved how critical — and fun — subjects like math, science, physics, design and engineering can be – because without those core fundamentals, our Dodge Can'avan couldn't have been built."
"Canstruction is excited to partner with The Chrysler Foundation to commemorate their 30th Anniversary of the Dodge Grand Caravan," said Carrie Kirk, Executive Director of Canstruction, Inc. "This life-size Grand Caravan will not only provide food for Toronto's Daily Bread Food Bank, but also inspire the next generation of Science, Technology, Engineering and Math (STEM) professionals. Our team of 30 STEM-focused youth volunteers had the opportunity to learn "hands on" engineering, construction and project management skills, all while giving back to the community. We're thrilled to be working with a company which shares the same passion and vision for fostering a creative and philanthropic community."
Source: Chrysler