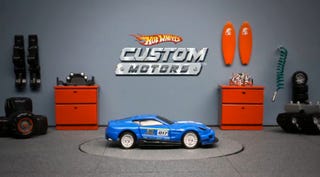 Stop-motion cars, cross-linked interactive videos, and a guy who sounds like he was born on Sunday, Sunday, Sunday! YouTube has been used for a lot of cool promotions, but as far as we're concerned, this one takes the cake.
Here's how this works: Watch the video below and don't skip scenes. When the clip pauses near the end, click on a car. You'll be taken to another YouTube clip, one where you can modify and race the car you picked. There are a handful of races spread out across several video clips, and each one is different. Each clip offers you choices, and the choices affect the video's outcome.
Interesting facts, courtesy of Mattel: The entire series was shot in stop-motion over the course of 26 days. Just under 9200 frames were captured, and each frame took 76 seconds to shoot. There are 88 different camera angles. One hundred and fifty pounds of sand were used to create the desert track, and 85 pounds of sugar stood in for snow in winter scenes.
We made a video like this in elementary school. It was lame by comparison, but it did have a stuffed gorilla popping out of the turret of a model Abrams tank and at least one accident-victim — I think she ended up with both of her legs stuffed inside the gorilla's mouth — Barbie doll. War is cruel. Racing is better. YouTube is great.