A trio of Chinese Navy vessels that are making an around-the-world trip will be visiting Mayport, Florida on November 3rd through the 7th. This visit comes as tensions are increasing between U.S. and China over the South China Sea, with the Navy ready to sail within China's man-made islands claim on disputed territorial waters.
The three ships involved with the visit include the Type 052C Luyang II class guided-missile destroyer named Jinan. The 052C Luyang II class is roughly analogous to an Australian Hobart Class destroyer, not necessarily in raw capability but in general configuration. The Hobart Class is roughly analogous to a slightly smaller and lighter armed U.S. Navy Arleigh Burke Class destroyer, with a focus on anti-air warfare, along with anti-ship, anti-submarine and land attack capabilities.
G/O Media may get a commission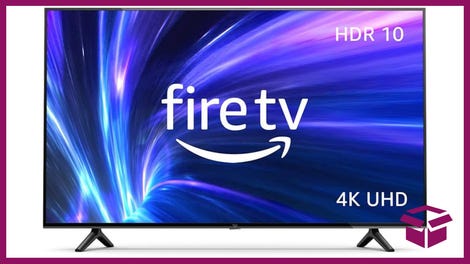 42% Off
Amazon Fire TV 50" 4K Smart TV
The other surface combatant in the group is the Type 054A Jiangkai II class guided missile frigate named Yiyang. This ship is an advanced multi-role frigate with medium-range air defense as well as anti-surface, anti-ship and anti-submarine warfare capabilities.
The final ship in the flotilla that will be visiting Mayport is a Type 903 Fuchi class oiler named Qiandao Hu. This is a large fleet support ship displacing 20,000 tons.
USNI reports that officials have told them these Chinese ships' crews will take part in sporting events, ship tours and other social events harboring in Florida. The USS Iwo Jima will be the host ship for the Chinese Navy's stay.
Chinese naval ships have visited U.S. ports before, they have even participated in the Navy's giant RIMPAC multi-national naval war games off the coast of Hawaii. Yet this participation in RIMPAC was before the relationship between the two countries began to chill over the last two years.
The reason why these Chinese ships are even operating in the Atlantic is the result of an intriguing symbol of China's growing naval might and world-wide military reach. Sending a flotilla of warships around the globe is a complex and expensive affair. An exercise that is showcase of military capability and influence as much it is one of diplomacy and good will.
China's Navy has also shown an unprecedented sign of good will and hospitality as of late, inviting U.S. Navy officers to tour their only aircraft carrier, the Liaoning. Strangely enough this first ever event was largely left uncovered by America's media, although the pictures are readily available on China's defense ministry's website.
All this comes after China's President Xi Jinping visited the White House last month, during which another sign of improved military-to-military relations was established via an agreement on aerial intercept procedures for U.S. and Chinese aircraft operating.
With all this in mind, the timing of these high-profile visits, especially the arrival of Chinese ships at Florida's major naval port, literally a world away from the Chinese mainland, is interesting as they are happening just as the U.S. is openly planning on directly challenging China's claims around their man-made islands in South China Sea.
It seems as if that issue is being actively compartmentalized from the military-to-military ties between the two countries. As such it will be interesting to see if the Obama Administration orders the freedom of navigation drill off China's islands in the South China Sea, despite what seems to be increasingly positive interactions and cooperation among U.S. and Chinese militaries.
---
Contact the author at Tyler@jalopnik.com.
Photo credits: Top photo and frigate photo via USN, destoryer aerial via Simon YANG/wikicommons, fleet oiler by Otherjoke/wikicommons, navy officers on Chinese carrier via Chinese Government,