This is The Morning Shift, our one-stop daily roundup of all the auto news that's actually important — all in one place every weekday morning. Or, you could spend all day waiting for other sites to parse it out to you one story at a time. Isn't your time more important?
1st Gear: Oh China…
Zhan Baosheng reportedly wants $3.4 million because he registered "Tesla Motors" in China as an electric car company before Tesla got there, which is roughly the same as me registering Alibaba in the U.S. a few years ago.
http://washpost.bloomberg.com/Story?docId=13…
Thankfully, China already ruled against Baosheng once for what is, basically, trademark squatting/trolling, but this lawsuit is still ongoing according to Bloomberg and no one can have a trademark until all appeals have ended.
"We'll be watching how China deals with this very closely," said Paul Haswell, a Hong Kong-based technology law partner at Pinsent Masons. "So-called trademark trolls watch Western brand development and seek to register brands in China that are relatively well known in the rest of the world before they have any brand recognition in China, then use those trademarks as the brands expand into the East."
G/O Media may get a commission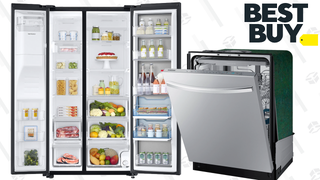 Up to 50% off
Best Buy - Samsung Major Appliance Sale
As China continues to want to look like a 21st century place to do business you'd expect they'd crack down on this, but it's worth noting that $60 million is what Apple forked over to get its iPad trademark back.
2nd Gear: Oh, China!
Ford and GM join Ze Germans in raking in that cheddar from China, with Ford China sales up 35% in the first half of the year and GM up 10.5%.
While the Ford number is more impressive, and represents a huge investment in that country, it's worth nothing that even with that monster increase they sold about 550K cars to GM's 1.7 million. Or, to put it another way, all of Ford's vehicles are only 100K bigger than the amount of Buicks GM sells in the country because Chinese consumers love freakin' Buicks.
They also love Cadillacs, with that brand up 72% in the first half of the year, as Nathan Bomey reports.
3rd Gear: Car Crashes Are Bad For Your Brand
Getting back to Tesla, its ridiculous share price dropped 2.9% because no one really has any perspective on the company and one accident where a dude survived being thrown into a wall sent traders running in the wrong direction.
Why do I say "wrong" direction?
As Matt Miller and I discussed with Trish Regan yesterday, the fact that no one has been seriously hurt in these crazy accidents is actually a good sign for the company.
Following the crash, the lithium-ion batteries from the car—spread around in clumps on the street—began to burn, some popping like fireworks and shooting into the air. Bystanders recorded the wreckage and burning batteries in mobile phone video shown by the television station.
Ok, I'll admit those aren't the best visuals…
4th Gear: The Perverse Upside To The Recalls
I mentioned yesterday how the GM recalls were good for service centers, who were seeing a backlog of work they're going to be guaranteed money for. But what of the dealers?
But as grim and damaging as the mess is to GM and its reputation, an unintended consequence is that GM theoretically gets 29 million chances to lure prospective buyers back into showrooms and put them behind the wheels of new metal mostly free from the problems plaguing out-of-production Chevrolet Cobalts and similar vehicles.

You can't buy that kind of traffic, as a ranking GM source and Paul Stanford, president of Les Stanford Chevrolet-Cadillac in Dearborn, put it in separate discussions over the past several days.

"That is an opportunity," Stanford said in an interview Monday. "How do you buy that? You really can't buy that. On the one hand, it's been a curse to us. On the other, it's been a blessing."
I wouldn't go around bragging about that…
5th Gear: Rolls-Royce Rolls-Royce Money Money Money
Why does Mercedes want a luxury brand? Because Rolls-Royce is making mad money.
Rolls-Royce reports sales were up 33% through the first half of the year, with huge jumps in Europe, Asia Pacific, and the Middle East. Growth was also up in China and the United States.
Reverse: Didn't Save Suzuki
On July 8, 2004, Suzuki Motor Corporation and Consumers Union, publisher of Consumer Reports magazine, agree to a settlement in an eight-year-long lawsuit in which the automaker accused Consumer Reports of damaging its reputation with claims that its Samurai sport utility vehicle (SUV) was prone to rolling over.
Neutral: Is China Mature Yet?
Is China truly joining the global business community or are they still suspect?
Photo Credit: AP Images