Right now, China is working on drafting up rules relating to the testing of self-driving cars on public roads, Bloomberg reports. But those rules aren't ready yet, and until they are, all automakers hoping to develop their vehicles using Chinese highways are out of luck. This could spell bad news for Chinese automakers trying to stay at the cutting edge of autonomous vehicle design.

The head of the automotive arm of China's Ministry of Industry and Information Technology told Bloomberg her organization is working with police to come up with regulations for self-driving car development. She went on to warn auto engineers not to drive on highways until those rules are drawn up, though she isn't sure when that might be.
This could put autonomobile development in China is at risk, as testing cars on public streets is a key part of self-driving vehicle development. So now that China is telling engineers not to test self-driving cars highways, researchers won't be able to validate their designs where it matter most—in the real world.
The car in the topshot, designed by Chang'an Automobile, recently completed a 1,200 mile trek on public roads spanning from Chongqing to Beijing. Bloomberg says the road trip was an effort to test "automatic cruising, lane-keeping and changing, assisted driving during traffic congestion, and speed reduction through traffic sign recognition and voice control."
The good news is that, like we reported earlier, China has blocked off a five square kilometer "pilot zone" to test out their regulations and make sure their rules promote safe autonomous vehicle development. That pilot zone is supposed to expand to a full 100 square kilometers within a few years.
G/O Media may get a commission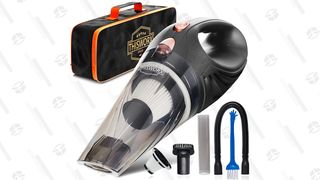 Save 50%
ThisWorx Car Vacuum Cleaner
So this looks like a bit of a roadblock for China's autonomobile development, but how big of a road block remains to be seen.