1st Gear: China Makes Threats Already
President-elect Donald Trump has repeatedly said he thinks China is ripping the U.S. off, so during his campaign he threatened to impose a 45 percent tariff on goods imported from the country. But you can't just impose a steep tariff without consequences, and Chinese communist party-controlled newspaper Global Times—yes, stick with me on this one—has outlined what those consequences could be. Here's the Guardian's analysis of that communique:
"If Trump wrecks Sino-US trade, a number of US industries will be impaired. Finally the new president will be condemned for his recklessness, ignorance and incompetence," the newspaper said in an editorial.

The Global Times claimed any new tariffs would trigger immediate "countermeasures" and "tit-for-tat approach" from Beijing.

"A batch of Boeing orders will be replaced by Airbus. US auto and iPhone sales in China will suffer a setback, and US soybean and maize imports will be halted. China can also limit the number of Chinese students studying in the US."

"Making things difficult for China politically will do him no good," the newspaper warned.
China is one of U.S. automakers' most promising markets, so if China retaliates on a U.S. tariff, that could have major financial consequences for the American auto industry.

2nd Gear: Samsung Wants In On Cars, Buys Harman For $8 Billion
Today, Samsung announced its acquisition of Harman, one of the biggest companies in automotive infotainment, and owner of well-known car audio brands like JBL, Harman Kardon and Infinity.
Samsung said in a press release that more than 30 million cars today contain Harman's connected technology, which includes "embedded infotainment, telematics, connected safety and security." Samsung says 65 percent of Harman's sales are to the auto industry, and that there's a $24 billion backlog of orders.
Clearly, Harman is a big dog in the automotive infotainment industry, and Samsung wants to capitalize on that, saying in the press release:
Upon closing, the transaction will immediately give Samsung a significant presence in the large and rapidly growing market for connected technologies, particularly automotive electronics, which has been a strategic priority for Samsung
G/O Media may get a commission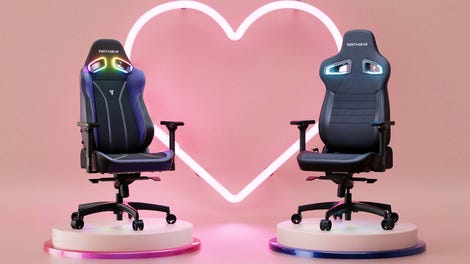 Up to $150 off
Vertagear Gaming Chairs
It went on:
Combining HARMAN's leadership in new connected car technologies, including its top positions in infotainment, cyber security, over-the-air updates and telematics, with Samsung's significant expertise and experience in connectivity technologies, including 5G, UX/UI, display technology and security solutions, will enhance HARMAN's automotive and connected services businesses to drive greater sales and provide significant benefits as automakers speed the adoption of next-generation connected cars.
Samsung has already started investing in autonomous car technology, but now it wants in on infotainment, an area in which Apple and Google have already invested heavily. It's about time, Samsung.
3rd Gear: Toyota Settles Truck Rust Lawsuit For $3.4 Billion
Toyota has had a problem with frames rusting out for some time; you might recall the company issuing a recall in 2009 on 2000 to 2003 Tundra pickups. But that wasn't the end of trouble for Toyota, as the company also had rust issues on 2005-2010 Tacomas, 2005-2008 Sequoias and 2007-2008 Tundras.
A class action lawsuit just came to a close for those affected vehicles, with Toyota agreeing to pay a $3.4 billion settlement. Even for Toyota, that is a huge sum of money with tremendous bottom-line consequences. Reuters reports:
The proposed settlement covers about 1.5 million Tacoma compact pickups, Tundra full-size pickups and Sequoia SUVs alleged to have received inadequate rust protection that could lead to corrosion serious enough to jeopardize their structural integrity, according to court papers.

Attorneys for the plaintiffs in court papers supporting the settlement estimated the value of frame replacements at about $3.375 billion based on a cost of about $15,000 per vehicle and the inspections at about $90 million at $60 per vehicle.

The settlement requires Toyota to inspect affected vehicles for 12 years after their sale, and to reimburse owners who have had to pay to have their frames replaced.
4th Gear: Could Mopar's Pietra Gorlier Be Fiat Chrysler's Next CEO?
Auto industry experts at Automotive News think Sergio Marchionne's successor might by current head of Mopar, Pietra Gorlier, with the site penning an article titled "Mopar's Gorlier has the makings of FCA's next CEO."
Marchionne has said he plans to step down in 2018 when he turns 65, and Automotive News thinks Gorlier is qualified to take over, saying:
[Gorlier has] run an innovative business unit at Fiat Chrysler that has expanded and made lots of money and touches every facet of the company around the world. And he wears a sweater most of the time and speaks with an Italian accent.
The praise goes on:
But it is at Mopar where Gorlier has shined. Since taking over, he's expanded the brand's global footprint with dozens of new regional parts distribution centers. Gorlier has also consolidated Fiat's former parts operations under the Mopar umbrella and broadened its aftermarket offerings, especially for Jeep.

Gorlier also has pushed FCA's dealer network, hard, to do what it has needed to do for a long time: expand service capacity and stay open on weekends. While expensive, those initiatives will help dealers weather the next market downturn better than they did the last.


...Mopar's global reach means that Gorlier's portfolio is as large as or larger than all of his rivals' except for perhaps Palmer's.
Ultimately, it will be the Agnelli family who makes the decision on Sergio's successor, but it would be no surprise if Gorlier were near the top of the list.
5th Gear: Tesla's Model S Gets More Expensive

Tesla announced earlier this month that free unlimited charging at the company's supercharging network was going the way of the dodo, but now in addition to no longer getting those precious free electrons, it looks like buyers will have to pay a steeper cost of entry to own a Tesla, as Carscoops writes:
The electric automaker confirmed the news in an email regarding the firm's changes to its Supercharging Network, reports Inside Evs, meaning the Model S 60 will soon cost $68,000 rather than $66,000.

No explanation has been given for the price hike or whether other Model S variants will soon become more expensive.

Is Tesla trying to make a bit more coin to gear up for its Model 3 launch? Who knows. But if you want a Model S, you'll have to save up a little longer if you buy after November 22nd.
Reverse: The First Dodge Automobile Rolls Off The Line
The new Dodge Brothers Motor Car Company was incorporated in June 1914, with the first Dodge car rolling off the production line November 14th that same year. From their days at Ford they knew all of the cost-cutting details Henry used to create an inexpensive car. They did not wish to compete in that market but instead offered a rugged, dependable upmarket car- the new Dodge sold for $785 compared to $450 for the Model T. By 1919 Dodge was the Number Three car manufacturer.
Neutral: Will Trump Soften His Stance On China?
Many in the media claim Trump will soften many of his polarizing political stances, but the president-elect seemed adamant about restricting trade from China. Will he soften his stance if it means protecting the American auto industry?