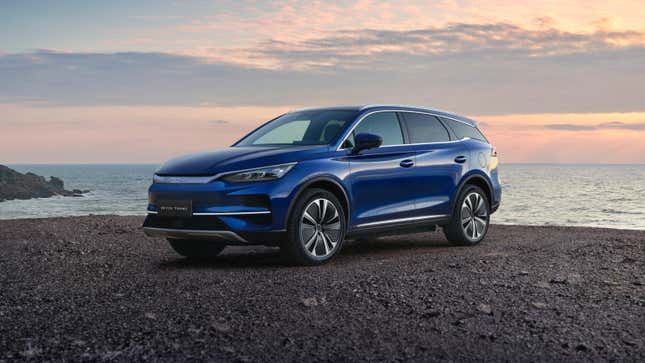 The European Union launched an investigation into the recent "flood" of Chinese-built electric vehicles this week. European Commission President Urula von der Leyen unveiled discussions that Chinese EV makers are massively benefiting from government subsidies, creating unfair trade imbalance. The EU probe is designed to investigate the potential for tariffs to level the playing field, and what the impact of said tariffs may be.
The issues here are two-fold, as EU-based automakers have complained that Chinese EVs are claiming significant market share both within the borders of the EU and within the borders of China itself. Reports indicate that electric vehicles out of China could account for 15% of cars sold in the EU within a couple of years, despite making up just 8% of market sales at present. Likewise, German automakers have seen China grow to be their largest global sales market, investing heavily in exports to Zhongguo. With the explosion of Chinese EVs selling in China, Deutschland's carmakers are nonplussed at the outcome.
"Global markets are now flooded with cheaper electric cars." the EU Commission chief said in her annual speech to the European Parliament. "And their price is kept artificially low by huge state subsidies."
Automakers from China, including BYD, NIO, and XPeng, have all recently launched electric machines aimed squarely at the biggest Euro sellers. Not only do the Chinese EVs match or beat the Europeans on technology, they're selling for thousands of Euros less, about 29% less on average, according to Reuters. The EU claims these lower prices are only possible with state assistance. China has reportedly provided over $57 billion in subsidies to Chinese automakers from 2017 to 2022, and that surely hasn't ebbed.
In reaction to the probe, Beijing has issued a statement with a combination of apprehension and threat, warning EU representatives that such an act would be aggressive and will have a negative effect on relations between the two global powers.

China's commerce ministry said in a statment: "It is a naked protectionist act that will seriously disrupt and distort the global automotive industry supply chain, including in the EU, and it will have a negative impact on China-EU economic and trade relations."
The US has already placed large tariffs on Chinese-built vehicles, favoring big-three protectionist policies to drive EV adoption. The full knock-on effects of these policies have not yet been realized, but the theory is that US consumers won't have access to the lower-priced electrics coming out of China, slowing EV adoption growth rates. Likewise, Chinese EV makers have been hampered by overproduction, as they ramped up their facilities in anticipation of breaking into a new global car market, only to be forced into a holding pattern.
China warns the EU that similar effects will befall Europeans by keeping the competition artificially stymied.
The EU has seen firsthand the pressure put on its home industries in recent years as the photovoltaic solar industry was flooded with inexpensive imports from China, absolutely hamstringing those built in Europe, forcing many out of business. On the other hand, EU tariffs on Chinese EV imports would really hurt the sales of brands that already build their EVs in China, including Tesla, Volvo/Polestar, Renault, and BMW.
The Commission has 13 months to investigate the full ramifications of a tariff before making a decision. Retaliatory tariffs from China, particularly on German, French, and Italian luxury automobiles, may hurt these companies more than improved market conditions within the EU would help.