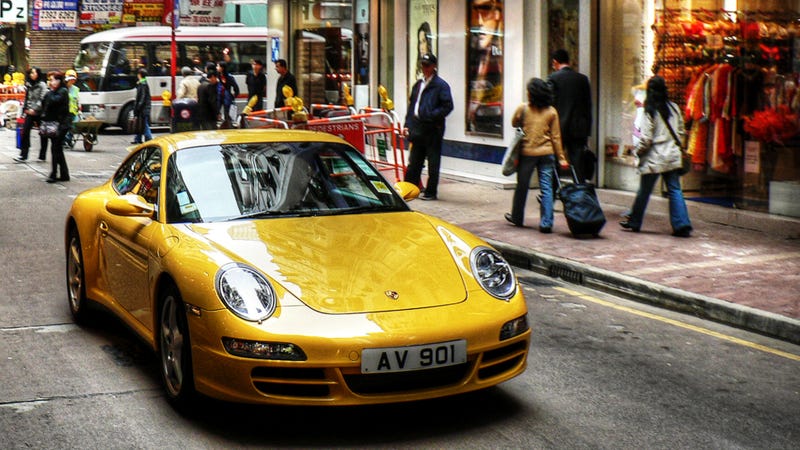 China's had a bit of a corruption problem since always lately, and in a bid to reduce the appearance of that corruption they've decided to ban the use of military plates on luxury and sports cars, including ones made by Porsche, Bentley, BMW, and Cadillac.
The official reason for the new rule is to maintain the fabric of society (and thus bloody revolution and fiery death?), as the PLA Daily via Bloomberg reports:
A new license system will go into force on May 1 to clamp down on the sale and use of legal and counterfeit military plates in order to "maintain social harmony, stability and the reputation of the military," the paper said. Existing plates for all military vehicles will be canceled, it said.

The use of military license plates on luxury cars "is at odds with our army's glorious tradition and not conducive to building the military's morals," according to a commentary in the newspaper. Vehicle management is "a political task to maintain forever the nature, principle and true color of the armed forces," it said.
Well if there's glory on the line then I suppose you gotta do what you gotta do.
Other brands that are banned from using military plates (which look like this) include Mercedes-Benz, Lincoln, and Jaguar. Vehicles specifically banned include Range Rovers, the Porsche Cayenne, and the Audi Q7. And just to make sure they've covered everything, anything with an engine bigger than 3.0 liters or costing more than 450,000 yuan (or $73,000 in American) will be banned as well.
The corruption has to be pretty bad if the Chinese government is going this far, but new leader Xi Jingping has made fighting it a priority.
That being said, the corruption has to be incredibly awful if members of the military can afford cars that can cost as much as an apartment in downtown Shanghai. Though I can't rattle off the official salary figures of each military rank in the West off the top of my head, I'm willing to bet it's not enough to afford even a knock-off Bentley, no matter how good their counterfeits are.
Photo credit Aldas Kirvaitis