Oh sure, the exterior's hot for a plug-in appliance, but the interior's just as slick. In fact, it's on the inside of the Volt where some of the biggest differences from concept to production were made. We sat down with Volt styling guru Bob Boniface, and let him give us the scoop on all that is interesting on the inside of the car. Here's the top five.
5.) It's Like A Big iPod
Every online media outlet's already compared the Volt to an iPod, but none have really detailed why. We'll be happy to explain. See, the Volt nearly does away with mechanical buttons on the car in favor of electrostatically activated controls, a technology more commonly known for its touch application in the iPod. The Volt not only swipes the iPod's buttons, it goes retro, swiping the discontinued white and chrome color combination as well. Except the Volt one-ups the 'pod with a very nice pearl paint finish onto which the "buttons" are stenciled in place. But wait, that's not the only color — according to Boniface, GM will offer several different color options for the center stack, including piano black. At this point the controls are touch only with an auditory feedback, but Bob Lutz claims he's pushing for haptic feedback on button-press — we'll see if "Maximum" Bob's able to win out over the need for maximum cost savings on that one. We're rooting for Bob.
4.) E-Flex Gives You Four Seats, Maximum Cupholders And Power
G/O Media may get a commission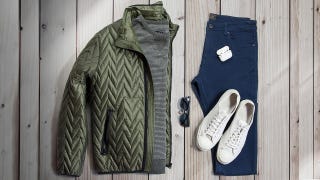 60% off
Jachs NY Fall Sale 60% Off
The Chevy Volt's E-Flex platform battery pack is the element everything else in the car is built around, and being that it's like a five foot long capital T running down the center of the car there isn't much room for three abreast seating in the rear. As such, there has to be a strong center console to cover it and only four seats. That doesn't mean the center spine goes unused; Boniface claims they've integrated a very nice set of cupholders and a storage bin into the plastic sheathing. More importantly, they've also added a rear seat power outlet.
3.) Double Control Screens
With so much information needing to be hurled at the Volt's driver — from battery charge level to HVAC to fuel economy to whether the pot roast is done — just one screen in the center stack was obviously not enough screen-space to get the job done. So, Chevy designers have designed an all-digital double dose of control screens, giving the Volt a high-tech, Star Trek command deck feel. One is a seven-inch LCD info screen beyond the steering wheel. The other seven-incher is a touch screen that controls climate, entertainment and power status. On top of that, you can apparently option the Volt out with a third screen if you want to pop in an external Nav unit thanks to GM smartly dropping a power outlet in the dash-top storage bin. No word on whether or not you'll need a stylus to push on one screen to control the action on the other, although we're practicing with a Nintendo DS just to make sure.
2.) Graphical Door Inserts
It may not be a car guys cup of tea, but the snazzy graphics on the door inserts do lighten up the cabin and give it just the right amount of urban hipster artist chic to satisfy even the smuggest of hybrid buyers. The car will be offered with a variety of color and graphics options to be selected on the order form but sorry, no mix-and-match option like the Saturn SC.
1.) One Seriously Slick Shift
The Volt will be a passive entry and passive start car, meaning you'll only need to have your keys in your pocket to operate the thing. Once in the car, starting it means grabbing the shifter and pressing the start button with your right thumb, pulling it back into drive and away you go. So although at first glance the shifter is a very odd looking design, in practice it seems to make perfect sense. Clever. And for you power freaks out there, there's a default "Eco" mode and a higher performance "Sport" mode. There's also a green leaf button — but we're not entirely certain what that does. Frankly, your guess is as good as ours.