Good morning! Welcome to The Morning Shift, your roundup of the auto news you crave, all in one place every weekday morning. Here are the important stories you need to know.
1st Gear: A Mid-Engine Corvette For America's Youth
It sure looks like the mythical, long-rumored mid-engined Chevrolet Corvette is going to happen. The Detroit News today has a big roundup of the rumors and insider info around the car, and there's a lot to unpack there.
Here's one big takeaway: the current Corvette, while insanely great, still tends to appeal mostly to the rapidly aging Corvettes at Carlisle crowd with their matching Corvette t-shirts and baseball caps, not younger enthusiasts:
One former GM employee with knowledge of the project said, "It's happening. Mark Reuss wants it," referring to the automaker's global product development chief. "It's the worst-kept secret in town."

Chevy has long been concerned by Corvette's aging demographic, and a mid-engine performance car could appeal to younger buyers.

"The median age of the Corvette buyer got three years older while I was there, which scared the hell out of us," says Tom Wallace, who was Corvette's chief engineer from 2006 until 2008.
G/O Media may get a commission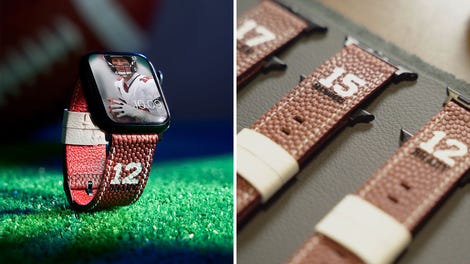 Official NFL PRODUCTS
Official NFL Apple Watch Bands
A sexier, more high-performance Corvette could do a better job competing with the top-end European cars today's youths covet. (I thought they weren't buying cars? Anyway.)
There's also this tidbit:
The mid-engine format would allow GM more flexibility to make performance variants — perhaps an all-wheel drive, plug-in hybrid model with electric motors driving the front wheels. That would put it head-to-head — at a more modest price — with cutting-edge, mid-engine hybrid supercars such as the Acura NSX and Porsche 918.
That whole story is very thorough and worth a read in full.

2nd Gear: Nothing Matters LOL
Bloomberg finally calls it: Tesla's stock prices has absolutely nothing to do with its quarterly earnings reports. After a $293 million Q2 loss thanks to "production hell," shares barely wavered in after-hours trading. From their story:
Tesla stock is utterly indifferent to whether the company's losses are bigger or smaller than analysts predict. Wednesday's miss, at 77 percent, was the biggest ever, according to figures compiled by Bloomberg — and the stock initially traded up after hours. I looked back at the prior 24 quarters and compared the amount by which Tesla beat or missed the consensus forecast with the next day's share price move, using data compiled by Bloomberg. The correlation coefficient was all of 0.0374 — or, among friends, "zero."

Ah, but Tesla's a growth stock, so the more relevant metric is revenue. And so it is — but not by much, given a correlation coefficient of 0.142. (Revenue also missed this quarter, by the way.)
What is important, Bloomberg argues, is how quickly Tesla is burning through cash.
3rd Gear: No One Is Taking Your Keys Away
Here's another must read this morning: a long Bloomberg interview with John Krafcik, formerly Hyundai USA's CEO and now Google's autonomous car czar, and one of the smartest people in the business. In the story he talks about the future of cars and Google's role in it.
In addition to admitting "Google realized that it's really hard to build a car" with their koala-like prototype, Krafcik—who's an enthusiast too—says he doesn't see a future soon where no humans are driving.
You said we'll always have cars that are a blast to drive. So which is it?

We'll always have cars that are a blast to drive, absolutely.

Will we be allowed to drive them on public roads or will they be show ponies?

No, we absolutely will be. I don't think in our lifetimes we have to worry about driver's licenses being taken away from people or the freedom to drive our vehicles where we want. I don't think that's a future that any of us—or anyone—wants.

No one is taking your Porsche 911 away from you.

No, no!
That's good.
4th Gear: Drive Better
Regulators and automakers want autonomous cars because the eventual goal is zero traffic fatalities, but here's National Highway Traffic Safety Administration Mark Rosekind admitting that humans need to drive better and smarter on the roads for that to happen too. Via Automotive News:
"In the auto industry, we're always looking at changing the technology, because changing the human would be really hard," Rosekind said here today at CAR's Management Briefing Seminars. "We're not going to change us. We can change our behavior, but that is really hard."

Instead, he argued, continually improving safety technology must go hand-in-hand with improving driver behavior to decrease traffic fatalities.

"The technology doesn't always work, and humans aren't always perfect, but I think the combination of the two could get us to zero," Rosekind said.
5th Gear: Bracing For A Strong Yen
Toyota is forecasting its weakest profit in four years, and the reason for that is a strong Japanese currency and the fact that nobody is buying its hybrid cars amid a cheap gas boom. From Reuters:
Toyota trimmed its forecast from the 1.7 trillion yen given in May, as it revised its budgeted yen rate to 102 versus the U.S. dollar and 113 against the euro from previous forecasts of 105 yen and 120 yen, respectively. It promised steeper cuts to labor costs and tighter control over expenses to offset the worsening currency impact.

A strong yen hurts Toyota and its smaller domestic rivals including Nissan Motor Co (7201.T) and Honda Motor Co (7267.T) as cars exported from Japan become more expensive, while it also decreases the value of earnings made overseas. A weak yen in the prior three years had led to a period of record annual profits at Toyota.
Reverse: Hot, Nasty, Badass Speed
Neutral: Did The Corvette Get Too Old?
Usually today's auto journalists are too busy heaping praise on the Corvette's value and performance to address the fact that it is still kind of a dad's car. Can a change in layout and a move upmarket keep it young and sexy?