The internet loves to dump on automakers shilling dress-up kits for cars as special editions, but I'm telling you Chevy is laughing all the way to the bank with this. Why not offer more stickers and steel bars at the dealership? Plus this camo is way sexy.
GM trotted out this battleship-style Silverado at the SEMA car customization show in November. That livery is actually called "Razzle Dazzle" and was developed by the military more than a century ago, GM explained in a press release.
The Spec Ops Silverado is mechanically based on the Z71 off-road package but adds more aggressive tires, a brake upgrade package, air intake and exhaust from Chevrolet Performance. I swear it looks lifted too, but that is not detailed on the specification sheet.
Inside it's got "ejector orange" on the door handles which probably looks awesome, and a continuation of the naval-style camo elsewhere.
G/O Media may get a commission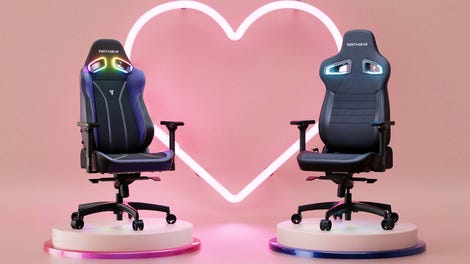 Up to $150 off
Vertagear Gaming Chairs
Plus, my all-time favorite pickup truck stick-on; a light bar! Though I'm not sure you'll be able to see those dinky little LEDs over the entire crew cab roof.
After the 2015 SEMA show wrapped up I figured the Spec Ops Silverado would slink into the night AKA a dark corner of GM's back forty but here it is again; rolling onto the field at the Army/Navy football game last weekend.
There, former General Motors Chairman and CEO Dan Akerson (a U.S. Naval Academy graduate) and retired U.S. Navy SEAL Master Chief Rick Kaiser (current executive director of the National Navy SEAL Museum) announced that the truck would be going on sale spring 2016.
"Chevrolet will donate a portion of the proceeds from each Special Operations Silverado sold to benefit the Navy SEAL Museum," according to a GM press release.
The company has also stated they're sponsoring an outfit called U.S. Expeditions and Explorations (USX) which takes veterans on trips to help them work through life with combat wounds and post-traumatic stress syndrome (PTSD).
To rally the troops, literally, even harder Chevy will expand its military discount from "active-duty, reserves, retired personnel and veterans within a year of discharge" to any American veteran (about 23 million people) and/or their respective spouses through January 4, 2016.
Pricing on the Spec Ops Silverado has not been announced, but I hope it's reasonable and that GM gets inspired to keep pushing the ball on factory customization packages like this.
Customizing cars is a billion dollar industry. If I plan on putting some steel tubes and stickers on my truck, and for sure I do, why shouldn't the dealership take a shot at selling them to me before I get to the aftermarket?
If Chevy can do these decorations cleanly enough to make it worth paying the OEM premium, I think they're on to something here.
Image via GM
---
Contact the author at andrew@jalopnik.com.