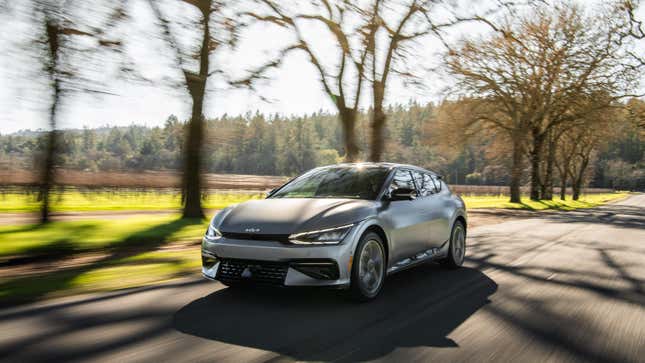 While all new cars are expensive, EVs are still the most expensive. With the average price hovering somewhere around $64,000, most models are out of reach for most Americans. Tax credits help some, but they just make the math on the price of the car go from expensive to "slightly less but still expensive." Luckily Kia is trying to get more buyers into EVs with a cheaper model. After seemingly raising prices on its EV6 last year, Kia is now bringing back a cheaper trim, but it comes with a catch: extremely limited distribution.
2024 Nissan Z NISMO | Jalopnik Reviews
Late last year, Kia dropped the EV6 Light trim from its lineup. It simultaneously raised the price $7,100 and disqualified the car from being eligible for federal EV tax credits. Now, that Light trim is back, Cars Direct has confirmed. While it still doesn't qualify for the tax credit, its base price is much lower. Including a $1,325 destination charge, the EV6 Light starts at $43,925.
That price comes with a couple caveats, though. The first is lower range. With a 58 kWh battery and a single electric motor putting out 167 horsepower, the EV6 Light gets 232 miles of range. That's 12 more miles of range than a standard range Hyundai Ioniq 5 but just eight miles fewer than a standard range Ioniq 6.

Cars Direct was able to confirm the return of the EV6 Light with Kia rep James Hope, who also mentioned the second catch that the EV6 Lights return comes with (emphasis mine).

Kia is following the market and other EVs sellers such as VW (ID.4) are offering shorter range models in relatively limited volume. Kia is doing the same in the Western Region only. Customers who don't require the longer range appreciate the value.
That's right. Kia thinks there's a market for cheaper, shorter ranged EVs in the western part of the country. Cars Direct was able to find an incentive bulletin that listed the exact states the EV6 Light will be available in: AK, AZ, CA, HI, ID, MT, NV, OR, UT, and WA.
Before you range defenders jump on with the "do people really need...?" or "you don't need that much range" arguments, consider that more than a few of these states are pretty empty and charging infrastructure still sucks. Would you really want to be driving an EV with just 232 miles of range in a place like Alaska or Montana? Even in a place like Southern California, where the range might work, it depends on the person. That range would work for a six figure earning family who has an EV6 Light as a second car for trips around town, but it wouldn't work for the super commuter with a 180-mile round trip work trek, or one who sits in stop and go traffic.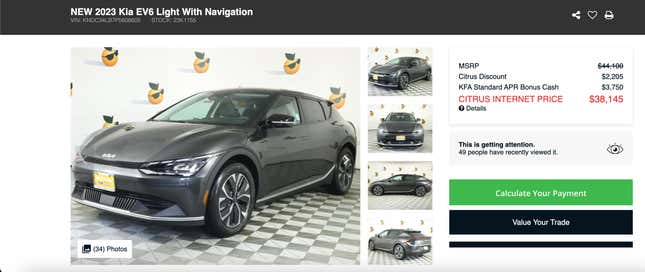 But it looks as if Lights are already making their way to dealers as well. Citrus Kia in Ontario, California has one in their inventory. With a dealer discount and incentives it's currently listed for $38,145. If you're interested in the Kia EV6 Light and you don't already live in the states listed above, just make your way west. And remember to make sure you're OK with not having much range.