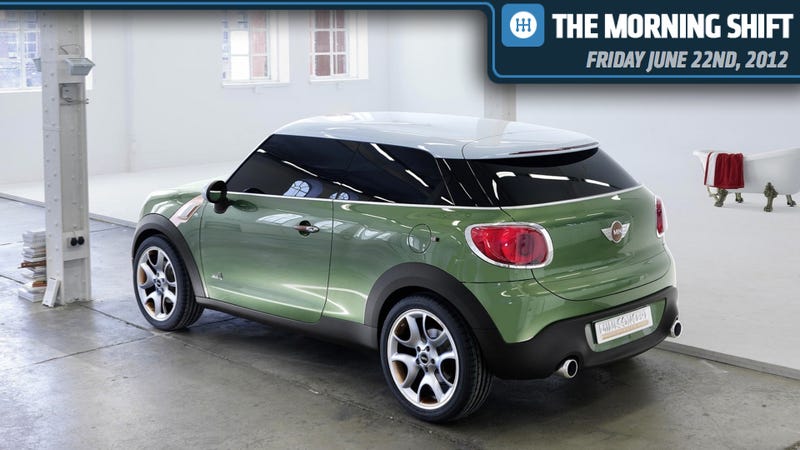 The Morning Shift
All your daily car news in one convenient place. Isn't your time more important?
This is the Morning Shift, our one-stop daily roundup of all the auto news that's actually important — all in one place at 9:00 AM. Or, you could spend all day waiting for other sites to parcel it out to you one story at a time. Isn't your time more important?
---
1st Gear: Carlos Ghosn Hops On A Slow Train Out Of Tokyo
The New York Times reports Carlos Ghosn is getting ready to wrap up his work at Nissan. Not any time soon, though. Nissan says it must prepare for Ghosn's departure in the next five years. That might seem like an awful lot of lead time, but Ghosn is an icon in the Japanese business world, as identifiable with Nissan as Karl Lagerfeld is with Chanel.
Ghosn, who took charge of Nissan when it linked up with France's Renault, has led one one of the most significant turnarounds in auto industry history. Kirk Kerkorian was so impressed that he wanted GM to hire him, and you have to wonder what might have happened if Ghosn had been in the GM driver's seat. It's not clear whether Ghosn would also give up the CEO's job at Renault, but since he's only 57, he might want to hang onto that position a while longer. The official word may come next Tuesday, when Nissan shareholders meet.
---
2nd Gear: Beware of Fickle French Car Companies
In another story with a French connection, Reuters is reporting that a joint venture on hybrid car parts between Peugeot and BMW now looks to be in danger, due to Peugeot's decision to hook up with Opel. That was the impression created Thursday, when Opel said its alliance with Peugeot will now include a linkup with Gefco, which is Peugeot's delivery group. Although Opel had said Peugeot's existing relationships wouldn't be affected, Reuters said the news drew a frosty response from Munich. "We are examining together how the (joint) company can continue fulfilling its duties," a spokesman for BMW said. But Peugeot was unapologetic. "We are examining the impact of our alliance with GM on the joint venture...It's clear the alliance changes the conditions of our partnership."
---
3rd Gear: Coming: The Mini Countryman Coupe
Car and Driver reports that Mini has confirmed it will roll out the Countryman Coupe for 2013. It will go on sale globally early next year, after it makes its debut at the Paris Motor Show. The Countryman Coupe is essentially the same thing as the MIni Paceman concept car, except for the name change. Car and Driver says it expects the Coupe will share the five-door Countryman's choice of front- and all-wheel drive, as well as that car's regular and turbocharged four-cylinders. A John Cooper Works version with a 208-hp turbo four likely will make it to the lineup, too, according to the magazine.
---
4th Gear: Towing Away The Toys
The New York Times reports the sad tale of convicted financier Timothy Durham, known for "a dream garage of contemporary and classic sports cars." On Wednesday, a jury in Indianapolis found Durham guilt on 12 counts of felony fraud charges. The FBI has now opened his garage and towed his toys away. They include a Lamborghini Murciélago, Mercedes SL Gullwing, Plymouth Prowler and Dodge Viper. You can watch the removal here.
---
5th Gear: Canadian Tire Wants To School You, Eh?
Like Sleeman Cream Ale and Jos Louis cookies, Canadian Tire has always been a beloved name with our neighbors. It sells everything from barbeque grills and hockey equipment to, well, tires. Its stores are so ubiquitous that there's a Canadian Tire within 15 minutes of 90 percent of Canadians. Now, Canadian Tire wants to teach young Canadians the right way to drive in maple leaf land. In a press release, the chain says it's launching the Canadian Tire Driving Academy. Classes will launch Aug. 13 at two stores near Toronto, and will be added at other stores down the road. Students will learn on Chevrolet Cruze or Sonic cars, and they'll also get lessons in car maintenance. If the student flunks their road test, they'll get an extra hour of instruction to "sharpen their skills."
---
6th Gear: Ten And Two, Or Else Radio Silence
Automotive News Chrysler reporter Larry Vellequette offers this idea for keeping young drivers' hands on the wheels. He thinks auto companies should install pressure sensors on either side of the steering wheel that are tied to a car's audio system. Sound would only come on if the young driver's hands are on the wheel while the car is in motion. If hands come off for three seconds, the audio system goes mute. Vellequette calculates that three seconds is enough to take a sip of coffee or water. But wait, there's more.
If the hands don't go back into place, a buzzer comes on and gets louder and louder with each passing second, making it impossible to talk on a cell phone. (A teenager, talking on a cell phone? Nah.) Once the hands are back, the audio system would return within 10 seconds. "I offer this idea up with a selfish motivation: My two kids are now preteens, and they'll be climbing behind the wheel soon enough. While I'm committed to training them to drive with both hands on the wheel when the time comes, I'd like a little help to make sure they do so."
---
Reverse:
Inside The Green Garage [New York Times]
What's The Business Case For A Second Ambassador Bridge? [Bridge Magazine]
Dodge Caliber Lands In Neighbor's Swimming Pool [CBC Windsor]
Inside the 2013 Mercedes GLK [Motoramic]
Ride Along With the Army In Yemen [NPR]
Marchionne Pays A Surprise Call in Austin [Austin American-Statesman]
---
Today in Automotive History
Actually, we're going to look ahead to Sunday, because on June 24, 1966, the U.S. Senate passed what would be come the landmark National Traffic and Motor Vehicle Safety Act. The legislation, signed that September by President Johnson, created the first mandatory safety standards for motor vehicles. In its final form, the National Traffic and Motor Vehicle Safety Act established an agency under the Commerce Secretary that would set safety standards beginning with the 1968 model year; that agency became the National Highway Traffic Safety Administration (NHTSA).
[History]
Show us your tips!
Got tips for our editors? Want to anonymously dish some dirt on a competitor? Know something about a secret car? Email us at tips@jalopnik.com.
Lost in our new layout?
Click here for the Opposite Lock or Tips forums. Want a more "blog-like" look? Click the button up top next to "Top Stories."
Get more Jalopnik!
Want even more Jalopnik? Want to know which of your friends read us? "Like" us on Facebook and follow us on Twitter.