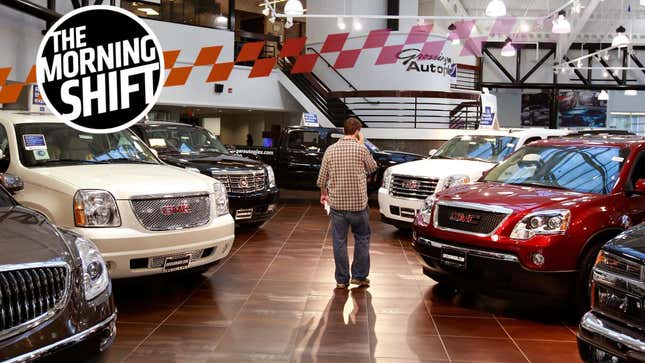 Auto sales are falling, the FCA doesn't want you seeing its monthly sales reports, and, yes—there's Tesla news in here, too. All this and more in The Morning Shift for Thursday, May 2, 2019.

1st: Auto Sales Fall
While nobody has really been expecting a huge boom in U.S. auto sales, the market has actually fallen below projected market forecasts. Overall, sales are down 2.3 percent, with automakers like the Detroit 3 and Toyota taking the brunt of the fall, AutoNews reports. Nissan, Honda and Hyundai all increased their sales—but not enough to compensate for the overall drop.
More details from AutoNews:
The seasonally adjusted, annualized pace of sales for April tumbled to 16.41 million — far below the 16.8 million forecast based on a survey of 10 analysts by Bloomberg. The April sales rate — the lowest since 15.54 million in Feb. 2014 — was also down sharply from 17.42 million in March and April 2018's 17.25 million rate.

[...]

Cars continued to struggle with demand falling 7.9 percent in April, while truck deliveries rose 0.3 percent.

Ford's sales dropped 4.7 percent, with the Ford division down 4.7 percent and Lincoln off 6.2 percent, according to the Automotive News Data Center. Ford's total car deliveries skidded 21 percent last month, while utility vehicle sales fell 9.1 percent and pickup volume jumped 7.3 percent, helped by healthy demand for the F series and the revived Ranger.

General Motors' sales dropped an estimated 2.6 percent last month, according to the Automotive News Data Center. April marked the fifth straight month GM deliveries have dropped year over year.

[...]

FCA reported a 6.1 percent decline, with an increase in Ram sales offset by weaker Jeep deliveries. Volume dropped 4.4 percent at Toyota Motor behind lower car sales, while deliveries rose 0.1 percent at American Honda, 0.7 percent at Hyundai and 9 percent at Nissan Motor Co. April snapped a 3-month skid for Nissan.

Sales at Jeep, FCA's biggest division, have now slipped four straight months year over year. In April, Wrangler demand fell 25 percent and Cherokee volume dropped 13 percent.


The company's U.S. sales have now declined three consecutive months. FCA dialed back on incentives last month but the company is still offering some of the highest discounts among major automakers.
Charlie Chesbrough, senior economist for Cox Automotive, told AutoNews that he has a working hypothesis. Mainly, it costs more to buy a car these days, and it's tough to borrow the money to do it. It's pretty tough to sell to a market that doesn't have the means to buy.
Some people are still optimistic. Reid Bigland, head of U.S. sales for FCA, claimed that they're anticipating stronger sales through the month of May as the spring and summer season really starts to kick off. Hopefully everyone gets spring fever for some new cars, otherwise the auto companies are looking at a very cruel summer.

2nd: FCA Joins Its Fellow Detroit Automakers

FCA is last of the Detroit 3 to switch from monthly to quarterly sales reports—but they're finally joining their peers, AutoNews reports.
Next month—June—will be the last time that FCA US and FCA Canada release monthly sales reports. After that, you can expect the next report to come on October 1.
When GM made the switch from monthly to quarterly, they pegged the decision on the fact that monthly reports were "volatile"—that they were more subject to variable factors like weather, selling days and product launch dates and so painted an inaccurate picture of the actual sale trends.
More from AutoNews:
Niel Golightly, FCA's chief communications officer, said in a statement: "A quarterly sales reporting cadence will continue to provide transparency of our sales results while at the same time aligning with where industry practice is heading."
FCA has noted that it will still share its monthly sales data with third-party research firms under certain conditions. It's just the prying eyes of the public and media who won't be privy to the more frequent data.
3rd: Tesla Files for Offering to Raise Capital
Sorry to those of you tired of hearing about Tesla every time you use the Internet—but the automaker is making some moves with the SEC.
From Reuters:
Tesla Inc filed for a mixed shelf offering for an undisclosed amount on Thursday, a week after Chief Executive Officer Elon Musk suggested a capital raise could be imminent.

Many analysts had predicted the electric-car maker would need to raise funds for its expansion, including building a factory in Shanghai, the upcoming Model Y SUV, and other projects.
In more basic English, per Gilmartinir, a shelf offering is "a flexible registration with the SEC that allows an issuer to essentially "pre-register securities" without a specified issuance date or terms." You can read more about it on Investopedia, where they explain it in detail.
Basically, this still enables Tesla to access markets quickly and easily and still gives Tesla control over offering new shares of the company—important for a company still working on firmly establishing its international presence.
4th: Ford Wants the Car Buying Experience to Suck Less
We've already seen that auto sales are falling across the board—a fact that's not solely attributable to the painful process of buying a vehicle from a dealer (but, y'know, it doesn't help). Inspired, Ford is looking to improve the process.
Reported by AutoNews, Ford is doubling the amount of money it's been spending on its customer experience in the hope that it will make the whole process of buying a car better and, hopefully, encourage repeat customers. Ford's success with truck customers is tough to deny—but they just need to garner that kind of loyalty across the board.
More from the article:
Ford on Thursday announced a series of initiatives designed to improve the customer experience. They include a new loyalty rewards program; redesigned call centers; and pilot programs for a mobile service network, easier lease renewal and new types of showrooms.

The automaker late last year announced intentions to focus more on customer loyalty and retention instead of conquesting buyers from other brands, which they say is harder. Customer experience is at the heart of retention, Ford said, and the company looked to non-automotive companies such as Apple, Google, Marriott and JetBlue for best practices they could emulate.

"When experiences are good, we're rewarded with higher loyalty," Ford said.
You can read in detail about their programs on Ford's press release.
5th: Skeptic Says Tesla Made Him Sound Worse Than He Was
Randeep Hothi had a mission, and that mission was investigating fraud at Tesla and posting the results on Twitter. Tesla was pretty pissed off about being spied on, which resulted in a restraining order (you can read all about that whole debacle here). Now, Hothi is fighting back by taking Tesla to court, arguing that the "lurid picture" Tesla painted of him was inaccurate, Bloomberg reports.
Here are more details from the article:
Tesla claims Hothi, who lives near its Fremont plant, has been photographing the factory and recently swerved his car toward a Tesla Model 3 that three employees had taken for a drive on the freeway.

Hothi said in Wednesday's filing that he happened to be driving on the freeway when he came upon a Tesla car that was doing performance testing and "took the opportunity to observe and briefly record the car's actions." Hothi says footage from cameras mounted on the Tesla car will show that he was not aggressive.
CEO Elon Musk has been pretty vocal about anti-short-seller stance. Hothi has been pegged as being under that category—and he's not standing for the slander.
Reverse: GM Buys Chevrolet
Back on May 2, 1918, GM became the world's largest automotive company by purchasing Chevrolet Motor Company, reports History.com. Billy Durant, a former GM employee and head of Buick Motor Company, formed Chevrolet in 1911. From History.com:
Still the owner of a considerable portion of GM stock, Durant began to purchase more shares in the company as his profits from Chevrolet allowed. In a final move to regain control, Durant offered GM stockholders five shares of Chevrolet stock for every one share of GM stock. Though GM stock prices were exorbitantly high, the market interest in Chevrolet made the five-for-one trade irresistible to GM shareholders. With the sale, concluded on May 2, 1918, Durant regained control of GM. Just two years later, however, he was pushed out for good by Pierre S. DuPont, whose family's powerful chemical company had begun investing in the fledgling auto industry by buying GM stock in 1914.
Neutral: When Was the Last Time You Bought a Car From a Dealership?
And do you think Ford's customer initiative would have made your experience any better?