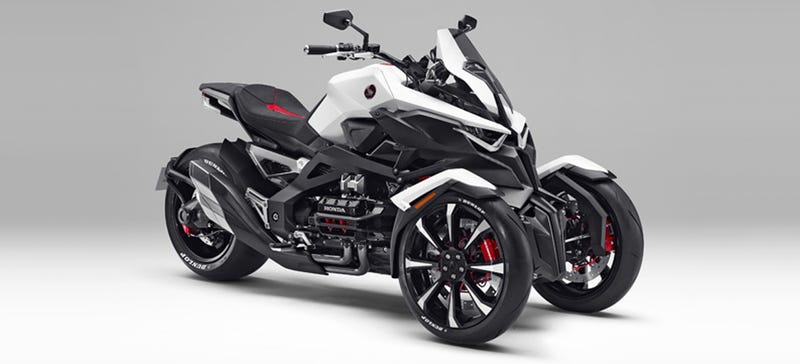 Performance tricycles are a strange segment. The Can-Am Spyder proved halfway decent to ride but embarrassing to be seen on. The Polaris Slingshot is polarizing, though we love it around these parts. Now Honda presents the Neowing concept; which of course they say does it all without compromise. What do you think?
Specifically, Honda says the Neowing "offers the cornering feel and sporty ride equivalent to a large-sized motorcycle while realizing excellent stability in low-speed ranges." So, I guess it's like a cruiser you can't tip over?
The trike is actually a hybrid with a horizontal four-cylinder engine and electric motors. That means big torque and probably pretty incredible fuel economy.
The linkage mechanism up front is all new and proprietary to Honda, with a massive set of brakes tucked behind the wheels as you can see in the image.
Honda will bring this machine to the upcoming Tokyo Motor Show, where we'll probably hear some more details about its functionality and feasibility.
For now, you can just pass judgement on how it looks and theorize how it might ride.
Image via Honda
---
Contact the author at andrew@jalopnik.com.