New California draft regulations released on Friday would allow approved self-driving cars to drive on state roads without a human in the car. The drafts also include rules about not advertising semi-autonomous cars as "self-driving" or "autonomous," because we all know that nonsense needs to be reeled in.
The draft regulations would allow for no humans to be present in the car so long as federal officials deem it to be safe enough, according to the Associated Press. Reuters reports that the cars have to have a two-way communication with those testing them in order to be out on their own, though.
According to Reuters, the new regulations reflect a big change in California's attitude toward the testing of self-driving cars—companies like Apple criticized the original draft regulations by California's Department of Motor Vehicles for being too restrictive, and disabled groups said the requirement of a capable driver would hurt a group of people autonomous cars are meant to help: those who could not intervene if the car were to make a mistake.
There are currently 15 companies with permits to test autonomous cars on state roads so long as a licensed driver is in the car, according to Reuters. Companies often test their autonomous technologies in California due to their friendlier regulations toward autonomy—even Faraday Future is allowed out there—and the new regulations would benefit automakers who eventually plan to take the pedals and wheel out of the car.
This comes after the U.S. finally came out with some ideas of how self-driving cars will be governed, and it's a sign of the times—we're slowly moving toward full autonomy, even on the legislative side.
G/O Media may get a commission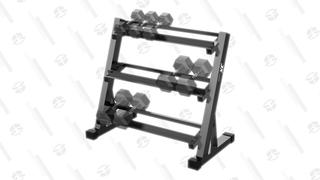 20% Off
JX Fitness Dumbbell Rack
Gains but tidy
Has a three-tier design to help store more weights more conveniently, can safely support up to 1000lbs of weight, which should be enough for most people, has a triangle base for stability, and also features anti-scratch feet which is great if you've built your own studio or workout in your garage.
Regardless of how long it's taken to get here, there could be loose-cannon autonomous cars out on California roads quite soon. But since 60 percent of Americans don't recognize the term "autonomous vehicles," they'll probably just think a ghost is driving.