Imagine you are walking past that swanky Cadillac dealership and you see the new CT6 you've been hearing about. And then you see salesmen inside leering at you, ears perked up, ready to pounce. You hurry away, intent on avoiding the dealership interaction, but you're still curious about the Cadillac. What do you do to drive one?
The Ford Taurus Is Reborn — But Only For the Middle East
Today, Cadillac announced a new subscription service called Book by Cadillac that will allow members to book a Cadillac (hahahaha get it) for personal use without having to worry about buying it. There are no mileage restrictions. Supposedly, you can keep the car as for a week or keep it for six months. As Cadillac puts it in the press release:
BOOK by Cadillac members will have app-enabled on-demand access to the latest premium trim Cadillac models to keep in their possession. The vehicles will be delivered via white-glove concierge to members' requested locations and exchanged at their leisure or as their needs change.
How much does this seemingly magical service cost? There is a one-time $500 enrollment fee and flat, monthly membership fees of $1,500. The membership is dealt with on a month-to-month basis with no long-term commitments required. That monthly fee will buy you registration, taxes, maintenance, insurance and detailing as well. That... ain't bad?
Members can use a mobile app to reserve the cars, which will include the "current year Platinum Level Trim Cadillacs," like the XT5, the CT6, the Escalade and the V Series. You have to be at least 18 to join.
G/O Media may get a commission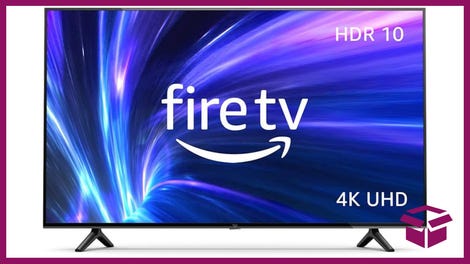 42% Off
Amazon Fire TV 50" 4K Smart TV
A Cadillac spokesman told me that the cars will arrive at the set location with a full tank of gas. From there, the member is responsible for paying for his or her own gas and parking for the duration of having the car.
Cadillac will launch Book in the New York metro area first, but it also has plans to expand.
This is an intriguing idea because it makes me immediately think about what you can or can't do with the car. For example, does the insurance included also have a clause for track day use?
Also, the lack of figuring out insurance and maintenance is definitely a big draw. Yet, you have to wonder how much maintenance a spanking new car really needs.
Personally, I find it unlikely that people in New York City will be very interested in this, since parking here can cost more than rent sometimes. (It'd be great if they covered New York city parking too, but then again, the program likely aims to make money, not lose it.)
It's probably easier and cheaper just to get a Zipcar or a Car2go for weekend country runs. But! If you're living out in the 'burbs and you just want to try out a brand new Cadillac for a month, why not?
You can find out more by clicking on these blue words.