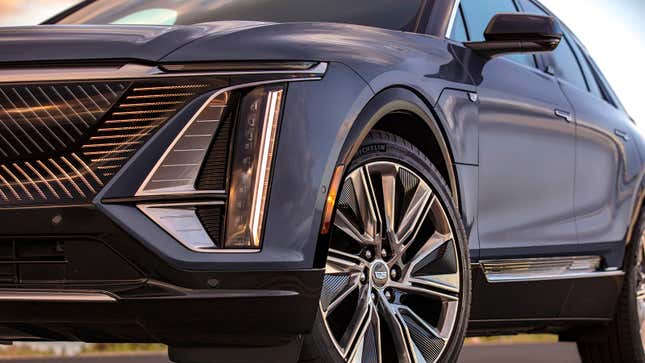 General Motors began delivering the first Cadillac Lyriqs last summer. Despite this, just 122 examples of the electric not-an-SUV rolled into driveways throughout 2022. Dealers and customers have been left wondering about the hold up for the "sold-out" EV, and this week GM has come clean: It's just being really, really careful.

This NYC Garage Takes Vanlife To The Next Level | Jalopnik Visits
There are roughly 500 Lyriqs at GM's Spring Hill Assembly plant in Tennessee just ready to go, the Detroit Free Press reported. It's all part of a "deliberate," slow ramp-up of production, intended to assure quality and stamp out early glitches and manufacturing foul-ups before they hit hundreds or thousands of vehicles, Cadillac told the Free Press:
Cadillac spokesman Michael Albano acknowledged there have been some software glitches on some of the first Lyriqs built and problems with a trim panel on the rear liftgate, but he said those issues have been resolved. He added that production will increase this year.

"With every launch — no matter the vehicle — there are learnings and other items that we fix along the way," Albano said in an email to the Free Press. "We are constantly making improvements in the build process, materials and software."

Albano said the reason so few Lyriqs have yet to make it to customers is because "we deliberately ramped up Cadillac Lyriq production slowly and methodically last year to ensure quality for our customers. Looking ahead, we will continue to ramp up production in 2023 in order to meet the strong demand for Lyriq."
Thus far, the Lyriq's issues have pertained to an infotainment/instrument panel display that can go blank under certain conditions, and plastic on the liftgate that may crack in the cold. According to the Free Press, Cadillac dealers have even been instructed not to deliver Lyriqs to buyers until engineers can give it a final inspection. GM also came under fire from the National Highway Traffic Safety Administration last year for encouraging early adopters to sign a non-disclosure agreement and report issues exclusively to the company, in exchange for a $5,500 discount.
All this "caution" is resulting in some impatient customers, if you ask Cadillac dealers:
Another large Cadillac dealer in a different state said he only received one 2023 Lyriq last year for a customer who ordered it. Fourteen more people put $100 deposits on orders for a 2023 first edition Lyriq. They continue to wait.

"We're in constant contact with those other 14 people," the dealer said. He asked to not be identified because GM had not authorized him to speak to the media. He said he has a total of 125 customers who have ordered future model years of the Lyriq.

He said four of the 14 first editions that were due to him last year are built but not shipped yet. He has no idea why and said GM will not tell him.

"It's very frustrating," he said. "But we have not had any of those customers saying they want their $100 back."
AutoForecast Solutions vice president Sam Fiorani told the Free Press that the company estimates GM built about 1,400 Lyriqs last year. If that's accurate, that means there are plenty more electric SUVs waiting under the cover of darkness, somewhere.