The Cadillac halo car: It's coming, guys. It's definitely coming because Cadillac boss Johan de Nysschen said so. He's also, uh, been saying so, but that's okay, too.
Speaking at the 2018 Automotive Forum, de Nysschen reiterated his desire to bring a Cadillac line-topper into production. "We will produce a halo vehicle, and when it comes it will stun the world," he said, according to Wards Auto. "The world does not need another large-box conventional sedan."
For those of you who remember (or perhaps are good with the Googling), this isn't the first time that Cadillac has made noise about an upcoming halo car. There once were plans to build something along the lines of the 2011 Ciel Concept, but then we reported that that project was scrapped in 2013 because the car didn't have enough "brand-building pizzazz."
Then, in 2015, Motor Trend got de Nysschen on the record to say that a halo car "has to be one of the options that we consider." Nothing came immediately out of that, either.
But now, it's 2018 and maybe (just maybe!), this will be the last time Cadillac says that its halo car "is coming" and it will actually just show the hell up.
G/O Media may get a commission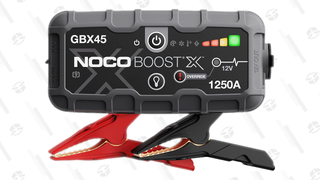 13% Off
Noco Boost X GBX75 Jump Starter
Unlike poor sedan sales, which de Nysschen blamed on teens and bad infrastructure, the Cadillac boss stated that the lack of a halo car had to do with successful foreign cars and not being able to get a seat at the global market table. Sad.
From the story:
Cadillac once was the No.1 luxury brand in the U.S. The decline came because of a "sustained attack" by European and Asian luxury brands, says de Nysschen who once worked for Audi and Infiniti, German and Japanese luxury brands, respectively.

That assault and Cadillac's "lack of access to global markets prevented us from generating enough revenue to invest in new product," he says.
It seems highly unlikely to me that anyone from Mercedes-Benz or Lexus had a "okay, and this is how we'll take down Cadillac" huddle in their meeting rooms. I think what's closer to the truth is that consumers just bought more Lexus and Mercedes-Benz cars because, I don't know, maybe they were better cars?
(For your convenience, Lexus sold 302,132 cars last year, Mercedes sold 375,240 and Cadillac sold 156,440.)
Anyway, de Nysschen said that "things are about to get very interesting at Cadillac." I sure hope so! I hope those interesting things amount to something like an Escala. We've already got the CT6 V-Sport. What else ya got?