This is the Morning Shift, our one-stop daily roundup of all the auto news that's actually important — all in one place at 9:00 AM. Or, you could spend all day waiting for other sites to parcel it out to you one story at a time. Isn't your time more important?
1st Gear: Obama Hot And Sour Over Chinese Duties
The New York Times reports that the Obama administration filed a trade complaint over duties that China levies on $3.3 billion in cars exported each year from the United States. China began charging the duties after the administration bailed out General Motors and Chrysler and provided assistance to other auto industry companies in 2009. It's the latest in a series of moves by the U.S. against China, involving everything from rare earth minerals to chicken parts. (As in, "parts are parts.")
There are two things going on here. First, it's an election year, and Obama just happened to mention the complaint in Toledo, home to the Jeep Wrangler, which is one of the cars affected by the duties. He's on a Midwest swing that included breakfast with Goodyear workers this morning. Second, U.S. manufacturers want every advantage they can get in China, which is one of the world's most competitive markets. The duties on their cars threaten to make their prices more expensive than those of their competitors. And no car company wants to have to eat the duties at a time when keeping costs low has never been more important. But China has its own agenda, too. The duties are its version of the voluntary restraint agreement that forced Japanese carmakers to build plants in the United States. Its reasoning may be if imported American cars are prohibitively expensive, American companies will invest more in China and hire more Chinese workers. We know how it worked out here...
---
G/O Media may get a commission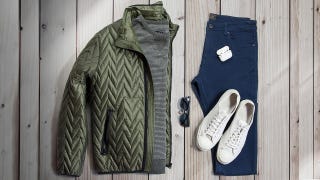 60% off
Jachs NY Fall Sale 60% Off
2nd Gear: Ford To Toyota: Mine's Better Than Yours
Ford says the C-Max Hybrid will be rated at 47 mpg in city driving when it finally goes on sale this fall, or 3 mpg better than the Prius v. It also says C-Max Hybrid will be $1,300 cheaper and get 50 more horsepower. To that, we say, "Okay, just hurry up and sell the thing." It seems like we've been hearing about the C-Max forever, so it will be interesting to see how it does a) as a hybrid and b) in general when it gets to the American market. Along with its city rating, Ford says C-Max will get 44 mpg in highway driving, versus Prius v's ratings of 44 mpg city and 40 highway. It also says C-Max can get total system horsepower on a 500-mile trip of 188, versus 134 for Prius v.
Meanwhile, Ford says its research reveals a lot about hybrid buyers now versus when hybrids (i.e. the Prius) first went on sale in the U.S. The gap in average income between hybrid buyers and buyers of regular vehicles has dropped from $30,000 a year to $15,000. In other words, hybrids aren't only selling to high-income earners, it's selling to less-well heeled customers. This could be a key factor for Ford as it slots C-Max hybrid into the spot previously filled by the Ford Escape Hybrid.
---
3rd Gear: Help! It's The Jeep Death Wobble!
The Detroit News reports two California lawmakers, Democrats Henry Waxman and Anna Eshoo, want the federal government to warn Jeep Wrangler owners about a defect they're calling the "Jeep Death Wobble." These are the same two lawmakers who asked NHTSA in April to launch a formal investigation into 2005-2010 Wranglers, only to have the government turn them down. Chrysler also says there's nothing to see here, and that the Wranglers have excellent safety records.
The lawmakers say that according to NHTSA, complaints typically said drivers experienced "shimmy symptoms at speeds above 45 mph, frequently after traveling over a bump such as a pothole or an expansion joint in the roadway." Eshoo and Waxman wrote, "The anecdotal evidence from our constituents indicates that many Jeep owners have not received consistent guidance from Chrysler representatives about how to approach this problem, even when owners report a relatively consistent set of symptoms." NHTSA says there have been two accident reports, and Chrysler says it knows of one crash with a fatality. Are there any Wrangler owners out there who've run into this, or is this just the way vehicles react on bumpy roads?
---
4th Gear: We're Sitting On Our Wallets
The Wall Street Journal (sub. required) reports on a retailing development that's not specifically car-related, but one of those pieces of data that the car industry watches, so I want you to watch it, too. The Journal says that sales by stores selling medium-priced goods were pretty much lousy in June. That includes your Kohls, Macy's, and other places that generally push their items through coupon sales and weekend specials. These places reflect the very middle of the consumer market — not too expensive, and not too cheap. When these customers sit on their wallets, it's really hard to sell them anything more expensive than a beach towel, which of course, makes it all the more difficult for the car companies.
The Journal notes that luxury good sellers and cheap places like Dollar General did better, relatively speaking in June. That shows the rich are always with us, and people will go out and buy when things don't cost very much. In order for the industry to truly prosper, it has to get those middle of the market buyers, and given that the price of a car is bumping up against $30,000, these buyers will need extra convincing to make big purchases. Now, you car buffs might scoff and say, "If I want it, I'm going to buy it" but remember that many of these middle-market buyers are women, and women buyers account for half of all car purchases.
---
5th Gear: BMW Gets A Tighter Grip On Mini
Motor Trend reports that the parental control of Mini by BMW is getting more apparent, according to photos of the 2014 version. It's no surprise, since the next Mini will borrow from the BMW 1-series. The interior has some clear cues from BMW, including a new steering wheel that Motor Trend says "comes directly from the BMW parts bin." There's also a new multi-button controller that resembles BMW's iDrive system, as well as big center stack buttons for climate control and other functions. Everything looks cleaner than the gadgety controls of the previous Minis. And, the car will have "sport" and "green" modes, like many other vehicles these days. Now that Mini has been on sale for 10 years in the U.S., longer overseas, it's understandable that BMW wants to make it a more cost-efficient car to build. But we also want to hear what Mini owners think. What say ye, Nick Bunkley?
---
6th Gear: Electric Bimmers Go On A World Tour
And speaking of the folks in Munich, Green Car Reports says BMW is taking its iElectric cars on a world tour before they go on sale, including a stop in New York this fall. The two iElectric cars - a mini car and a plug-in hybrid - went on display in Rome the last couple of weeks, and they'll be hitting other stops including Tokyo, London, Paris and Shanghai. The New York visit in November will include workshops, discussions and exhibits about the materials and design of the cars. These vehicles are important inside BMW, which is eager to emphasize that it's doing environmental research as well as developing fast cars. (See last week's announcement of its deal with Toyota.) The World Tour comes about a year before the first of the electric BMWs are set to go on sale, so the company probably will not be giving out much in the way of specifics.
---
Reverse:
Economists Way Off on Jobs Numbers; Unemployment Remains at 8.2 Percent [Washington Post]
Chrysler Convinced There's Still A Market For Small Pickups [Detroit Free Press]
Fort Collins Has A $120,000 Mercedes Ambulance [Coloradan]
Ambassador Bridge Owners Spent $3 Million On Ads Against New Bridge [Detroit Free Press]
GM Korean Union Plans A Partial Strike Next Week [Reuters]
1960 Volkswagen Truck Back In Service For Alaska Air [Seattle PI]
---
Neutral
In keeping with our new discussion system, here's a place for you to own the floor. We're asking each day what you think about an issue that comes up in TMS.
Today, we're wondering what you make of the way the auto industry is being inserted into the presidential campaign. How important is the bailout to President Obama's re-election campaign? Does anyone care outside of car towns, or is this something that should come up in the presidential debates? Remember there's no right answer or wrong answer. It's Neutral.
Show us your tips!
Got tips for our editors? Want to anonymously dish some dirt on a competitor? Know something about a secret car? Email us at tips@jalopnik.com.
Lost in our new layout?
Click here for the Opposite Lock or Tips forums. Want a more "blog-like" look? Click the button up top next to "Top Stories."
Get more Jalopnik!
Want even more Jalopnik? Want to know which of your friends read us? "Like" us on Facebook and follow us on Twitter.