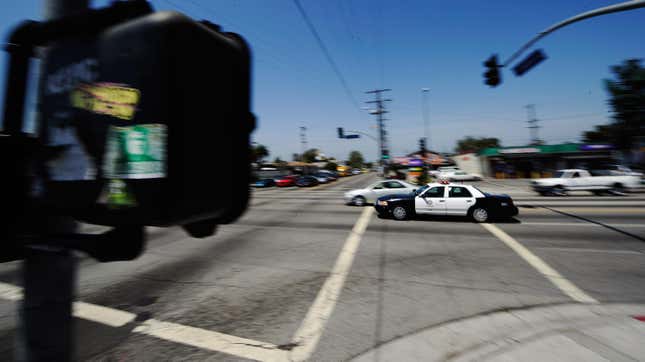 Police pursuits can be dangerous affairs. Not just for the officers involved. But for innocent bystanders, be it people in traffic who just happen to be in the path of the chase or those on foot who are simply going about their day. The Los Angeles Times reports that a college student was killed by robbery suspects who were fleeing the LAPD.
Just after midnight on February 16th, LAPD officers attempted to stop a vehicle in Northridge. An LAPD spokesperson said the vehicle in question fit the description of a vehicle that was wanted in connection with a robbery. When the officers tried to stop the vehicle, it sped off and the officers gave chase.

A half mile down Roscoe Boulevard — a major street that runs east-west through the area —at the intersection of Lindley Avenue, the vehicle hit another vehicle coming in the opposite direction. Both drivers jumped out and fled. Only one of them was eventually caught. The driver of the car they hit was identified as 19-year-old Erick Barbosa-Guardado, who was pronounced dead at the scene.

Barbosa-Guardado was a student at Cal State Northridge where he was studying theater and civil engineering. He also worked at a local TJ Maxx, which gave a statement regarding his death. "We were devastated to learn of the untimely passing of our store Associate Erick Barbosa-Guardado. We send our deepest condolences and sympathy to his family and friends, as well as to the many store Associates who worked closely with him," the statement read.

Barbosa-Guardado's death comes just over two weeks after two other bystanders were killed during another high-speed chase of a stolen vehicle. Often these incidents result in additional charges for the suspects involved. But sometimes blame is placed on the officers involved in the chase. A report by the L.A. Times found that in the eight-year period from 2006 to 2014, one in 10 chases the LAPD was involved in ended with innocent people getting hurt.