Let's be honest: the Transformers series of movies are pretty awful. Even if we accept that a movie about space-robots that turn into cars and trucks isn't the sort of framework that's going to beget Citizen Kane, they've still been idiotic. But at least one good thing is happening: in the upcoming standalone Bumblebee movie, it looks like the titular Autobot will regain his original car-form, a Volkswagen Beetle. Like robo-god intended.
01:08
Danny DeVito Explains Old-School Car Customizing to His Daughter Lucy
Today 1:13PM
Back in the 1980s, when the original Transformers cartoons/toy commercials came out, Bumblebee transformed into a Volkswagen Beetle, and all was right in the world. Though the accuracy of the drawings is usually pretty spotty, I think it's a '71-'72 Super Beetle.
Then, in 2007, Michael Bay got the two grenades he calls hands on the series, and exploded away the Beetle, exploding in its place a Chevy Camaro to act as Bumblebee's automotive guise. Michael Bay exploded an explanation on the special features of the Transformers DVD, exploding that the Beetle-Bumblebee exploded him of Herbie the Love Bug. Then, he exploded.
Now, the 2018 Bumblebee-focused movie is said to be a prequel that will take place in the 1980s. Transformers producer Lorenzo di Bonaventura told Entertainment Weekly that, "You might even see a VW Bug. You never know."
G/O Media may get a commission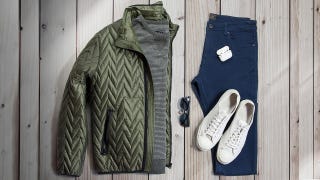 60% off
Jachs NY Fall Sale 60% Off
If a producer says something like that, we actually do know. Bumblebee will be a VW Beetle at some point in the movie, I'm almost certain.