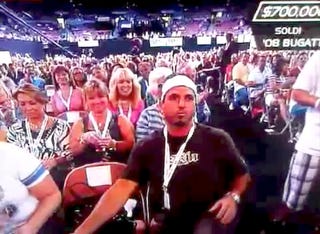 A 2008 Bugatti Veyron sold on Saturday at a Barrett-Jackson auction for $700,000 — a reasonable price for a 1,001-hp supercar with 12,000 miles. After the hammer fell, the buyer placed a new bid of "just kidding."
The Veyron was the star attraction of the auction, and considering its original $1.4 million asking price, $700,000 seemed like a decent price, despite the outrageous maintenance Veyron ownership demands.
But when Barrett-Jackson went to finalize the sale, the winning bidder pictured above got some expensive cold feet.
"First, he said he didn't bid, then he said he was 'trying to help,'" auction company chief Craig Jackson said, declining to identify the head faker. "The bottom line is, he said he wouldn't buy it and we booted him." President Steve Davis later held up the buyer's lanyard from the podium, saying "here's all that's left." (That used to mean something else in Vegas.)
Jackson then offered the Veyron back to the underbidders for the same price. When none bit, he bought the car himself for $700,000, and later said he expected one of the phone bidders to step in.
What have we learned? Veyrons may not be holding their value all that well. People in Vegas can exhibit questionable financial judgment. And if you're going to punk a popular car auction, don't do it on live TV. (H/T to Richard & Jon!) [Speed TV]