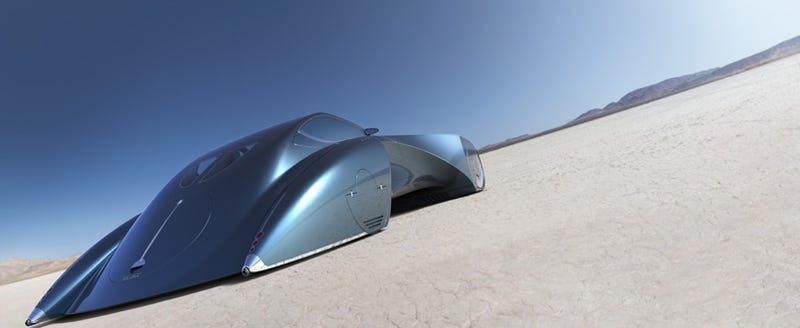 The French make the most outrageous modern super car and the current winner of Le Mans. What if they came back from an exile in outer space with an updated Bugatti Atlantic? This might be what it'd look like.
Few eras of industrial design have produced objects of such impeccable, futuristic desire as Art Deco. Tempting it is then to imagine that the svelte lines of Bugattis and the Chrysler Building could somehow live on, infused with modern technology.
Results are ambiguous at best. Take Kerry Conran's 2004 film, Sky Captain and the World of Tomorrow, an absolutely gorgeous exercise in 30s chic right down to Gwyneth Paltrow's beige trenchcoat, but a dreadful movie. Oh and—the Bugatti Veyron. The technology is there in spades but the fleeting grace of prewar Bugattis is gone for angry turbopanzer looks.
Failing to accommodate reality in designs is a hell of a slippery slope, but French industrial designer Bruno Delussu's rendering of a modern Bugatti Type 57 is so far removed from reality that the mind is free to conceive of anything. Say, a France removed by tractor beams from the way of an imminent Nazi invasion. Then allowed to grow in isolation for decades, acquiring high technology on the border of magic, to come up with this thing. A modern take on the Bugatti Type 57 Atlantic, powered probably by ion cannons instead of the original's clockwork straight-eight.
Judging by looks alone, it would also give a fair chase to the Auto Union Streamliner which Bernd Rosemeyer crashed at a delicious 270 MPH on a cold January day in 1938.
Image Credit: Bruno Delussu