With his parents' impending divorce and not enough funds to cover the (increasingly expensive) costs of college, a Texas student spent his freshman year living in his car. He's graduating now, but only a few people knew his secret.
Colin Ashby is a mass communications major at Texas State University. Like many of us, financial aid and scholarship awards — and not the acceptance letter we get so excited about in high school — dictated whether he would actually be starting classes the fall of his freshman year.
Ashby, who penned an op-ed in USA Today detailing his experiences, said after paying his tuition bill, he was only left with "a few hundred bucks" for everything else. He couldn't afford to stay in the dorms, so he lived in his car, a first-gen Ford Focus.
Elaborating for Good Morning America, Ashby explained how he was able to keep students and even his parents from finding out:
"It really made me aware of my time," said Ashby. "Obviously I can't just hang around in my car. The library was my best friend. It had air conditioning."

The heat, he said, was "by far the most miserable part" about living in the small, red Ford Focus.

"I had a fan I'd plug into my voltage outlet but it wouldn't really help," Ashby explained. "There were nights I'd lose sleep because of it. It could get up to 100 degrees, and that's without factoring in the humidity."

To shower, he'd use the rec center. To wash his clothes, the laundromats all over campus. In terms of food, he mostly stuck to pre-packaged options, with the exception of using one microwave located in the student activity center near a dining hall. But even that Ashby tried to keep under wraps, only using it "super early in the morning so that nobody would see me."
G/O Media may get a commission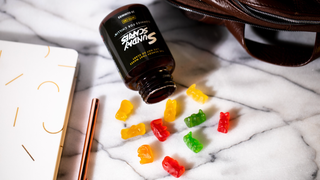 10mg CBD Gummies (22-Count)
Only two of Ashby's six siblings knew about his situation. But living in his Focus turned out to be helpful. With limited finances, Ashby says he never took the kind of shopping trips that doom other students. And to pass the time outside of a part-time job at McDonald's, he spent time in office hours with professors, went to job fairs, camped out in the library, advanced in his classes and is now nearly done with his degree after only two-and-a-half years of study.
Any other questions you probably have about this insane scenario are probably answered here on Ashby's own website.