Patsy Burt didn't like racing—not at first, anyway, when her racing driver father took her on frequent visits to Brooklands to watch him compete. At an age when parents aren't cool, it was the equivalent of Burt being taken to work with him. But things changed.
It took years for Patsy to get behind the wheel. After WWII, she trained as a riding instructor and moved out to pursue a career on her own. She was still in frequent contact with her father, who was still involved in racing, which meant Burt was often a spectator at Goodwood—her annoyance with racing had diminished as she grew older.
Finally, in 1953 at the age of 25, Burt got behind the wheel herself. The temptation to race had grown too strong for her to deny. She climbed into a Jowett Javelin and didn't look back.
The specifics of her racing career are obscured by time and by her pursuit of racing on a largely national—not international—level. She took part in her fair share of rallies and driving tests, but it took time before she was able to break into actual circuit racing. She worked her way up from the Javelin to a Jaguar XK120 to an Aston Martin DB2/4. At that time, it was pretty rare for women to race, and it's said that she heard a male spectator overhear that she was wasting a beautiful race car due to the fact that she was a woman.
It inspired Burt to push harder. The next season, 1956, she upgraded from road cars to actual competition cars in a further attempt to push the boundaries of her abilities and prove to her naysayers that she was capable of racing. While she started off competing (and winning) in hillclimbs and track events in an Aston Martin DB3S, it was the Cooper T39 Bobtail that she purchased in 1957 that she made her name.
G/O Media may get a commission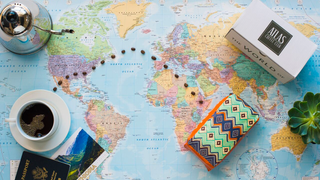 First Bag Free
Atlas Coffee Club - Free Coffee
Explore global coffee
With each bag, Atlas includes details on the coffee's tasting notes and a postcard about the region and its coffee history. And when you subscribe, you have options to tailor frequency, grind size, and roast preference of your beans, so you'll always be brewing the perfect cup.
And then: single-seaters. Formula racing. Impressed by her previous seasons' cooper, she purchased a Cooper T43, and it was at the wheel of that machine that she began to win her first hillclimb events. She spent 1958 tempering her hillclimb career with circuit racing, but the following year, she excised circuits completely from her repertoire.
By that point, Burt knew where her strengths were. With a smooth, precise driving style that quickly depreciated after a few runs, Burt was a master at knocking out single-run challenges.
And her Cooper was painted a dark, powdery shade of blue—a color that became iconic due to its association to the incredible success who drove it. That shade officially became known as "Burt Blue" as a token to the legacy that Burt was carving for herself out of hillclimb success. Around the same time, she and her manager were expanding their racing operations to a race prep garage, PMB Garages Ltd. They were responsible for an incredibly number of race-winning cars, including all of Burt's.
Burt decided that, after a few years of home-grown success, it was time to get international. In 1961, she raced a 1500cc Porsche RS in the European Mountain Championship, becoming the first British person ever to do so.
Spurred on by that success, Burt returned home and assembled the modified Cooper T59 that soon became eternally associated with her name behind the doors of her own garage. The car was initially built to hold a one-liter Formula Junior engine, but Burt wanted more from her specialty design. By moving the driver forward in the cockpit, she adapted the vehicle to hold a 2-liter Coventry Climax FPF engine. She was short enough that it wasn't a big move, and it also left room for the larger fuel and oil tanks that the bigger engine required. All those modifications, and not once did she have to modify the wheelbase.
She was incredibly successful during the first half of the 1960s, winning events behind the wheel of a car of her own specifications. Things seemed pretty damn successful until 1965, when Burt and her manager realized that she couldn't just compete at the same level forever–she'd need to make a step up.
Enter: Bruce McLaren. Burt wanted to create a single-seater car from his McLaren M1A Can-Am sports car chassis. Appearing in 1966, the new car was as good at crushing hillclimb competition as were McLaren's sports cars in Can-Am. With a 4.1-liter Oldsmobile V8 engine that was modified to produce 268 kW of power, it was far more powerful than anything Burt had driven up to that point, comparable to the Formula One cars at the time. With PMB garages modifying their car with a pointed nose and extended windscreen to reduce drag, But was unstoppable.
But things didn't stop there. In 1967, Burt's M3A was the first car to add a vertical metal plate mounted edge-on to the direction of travel. This would create a reliable surface to break the timing beam at the start and finish of hillclimb courses, something that had been pretty variable in that era. That piece still exists on hillclimb cars, known as the Burt strut.

Burt opted to retire 1970 after she won the RAC National Sprint Championship and became the first woman to win a British national title. It was better to go out in a bang than to fade away, she reasoned. And with a career that contained 42 outright victories, 172 class wins, and 151 ladies' prizes, it seemed a good enough time to step down.

As with most racers who retire from active competition, Burt was still involved in racing. She ran PMB Garages, still preparing race-winning cars. She and Rob Smith, her manager, then took on organization and consulting roles, going on to marry in 1983.
Burt died on October 4, 2001 due to "a mechanical problem", as reported by The Daily Telegraph. She could go out on a high, knowing that she had achieved far more in her life than many women could have imagined.