Artificial intelligence: it will replace us all one day! Eventually, I won't have to deal with Jalopnik staffers and their problems, until I too am replaced by a bot that understands headlines and spreadsheets and can field endless complaints. Until then, we'll have to settle for bots writing Craigslist ads, and that is fine because their work is delightfully bonkers.
The 2023 Ford F-150 Raptor R Is Here
The folks at Part Catalog sent us this. They fed more than 1,000 Craigslist car ads into Botnik predictive text software, and most of what the bots came back with didn't make any sense at all, which is not surprising because your average Craigslist ad barely makes sense to begin with.
But some of them did make sense, kind of sort of, and here are the five best examples from our the bots. They're not quite coherent, but they're close in a lot of ways.
G/O Media may get a commission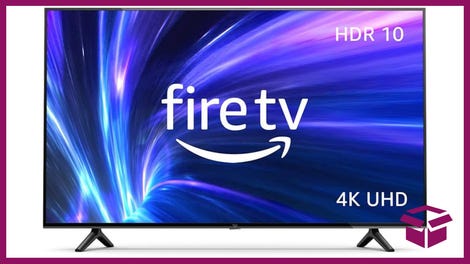 42% Off
Amazon Fire TV 50" 4K Smart TV
Now low-ballers, of course. These bots know what they have.
'Please Don't Drive the Car in Michigan'
I am selling my current daily driver for something that seats 7. It has a clean title and clean carfax with no rips or tears in the transmission. It is a 4wd vehicle to get you out of any jams or any abnormal noises. It smells fresh and drives like a BMW. There is also a new electronic brake control for pulling loads of extra money.

This is a great vehicle for the price and would be perfect for someone looking for a cheap dependable car with a small scratch on the side. It starts and runs like a modern person and has 60,000 miles. The engine sounds great and the steering is really firm. All of this is reflected in the price since I did all the major mechanical work. If you would like to come see it then feel free to contact me between 8:00am and 2005. Please don't drive the car in Michigan.
'I Have Over 600 Hours of Blood on the Highway'
I have a dependable 2001 Ford Explorer that will start and keep going until you get a newer one. I have over 600 hours of blood on the highway going back and forth to college everyday. It has a clean title and drives great for its age. The only thing the truck really needs is a set of tires and an amazing sound system with front and rear temperature controls. It has 101,500 original miles and is fully loaded. I have taken several detailed pictures so you can see how nice this vehicle is. Unlike most vehicles on craigslist it drives like it has aluminum wheels. There is also a new powertrain control module with the 2.0 turbocharged smoker. If you would like to schedule a time to see it and drive it, text me first. I have been gifted a new car from a guy.
'It Runs Like Good Water'
I have a gently used 2003 Chevy Cobalt with a 4-cyl amplifier plate. It runs great and drives excellent. This car has been well maintained, and everything still works like it is mud. I have all the repair receipts and paperwork for the next owner. These repairs include lower control arms and bushings. I recently replaced the windshield wipers and the car has always been kept up on oil changes. This is a rare car and is very reliable. It runs like good water. If you have any questions or any issues whatsoever, I am confident that it will be considered. No low ballers.
'Everything Works Like It Smells'
I need to sell quickly and abnormal. I have a 2002 Chevy trailblazer EXT with a clean and clear title. It has a custom roof, tinted rear windows, keyless entry, camping package, and everything works like it smells. My wife says we have so many cars and trucks that it is currently not beautiful. The frame is a bulletproof and the transmission shifts very smooth. I also replaced the shocks and struts as the suspension was highly gone. I'm licensed with the state and will provide a 45 day plate motor. If you take this truck anywhere without thinking twice, you are knowledgeable. Please message me to see it. I'm located near the airport by West Washington street.
'Runs Like a Fantastic Acura'
I am just looking for something newer and my 2010 Subaru Forester is beige. It starts and runs like a fantastic Acura and the interior looks like the moon. It drives straight and runs like a solid ranger. The motor is a rebuild 1990-sbc 350 with a mild cam system. It smells fresh and the transmission shifts wonderfully. Lots of new parts in the last 3 years. The body is in excellent condition with no rips or rust inside the metal. I'm selling it for about 34,000. If you would consider my Forester I would like it. Please contact me.
Can you do better? I challenge you to try in the comments. Let's make this a thing. Together, our car ads will work like mud together, for all the knowledgeable car gifters who don't want to be low-balled for fantastic Acuras and their mild cam systems.
Update: They sent us two more, and they are so good:
'I am a Licensed Millennial'
I purchased a newer vehicle for my wife and I need to sell my old one. It is a 2011 2wd Honda Accord with a 5-cyl player package. It has many tires and brakes but needs a new timing belt. It recently feels like a half mustang with a turbo diesel Cummins. The only thing the car is missing is a great aftermarket radio. Also I installed aftermarket headlights with LED taillights. This car is sharp looking for a cheap dependable driver. Please look up vin # for questions. If you would like to discuss further or want more details please provide a phone number in your email response and I will get back with you. I am a licensed millennial.
'Looks Like New Electronic Rubber'
Almost new 2015 Hyundai Santa Fe for sale. It is a 1-owner hybrid that has been babied like a premium Miata. This vehicle runs great and will provide the owner with no problems. All the chrome is nice and solid, it looks like new electronic rubber. It has aluminum alloy wheels and drives like a little corvette. I wanted to keep this car but i need all the money from you. I will consider all the offers.
This story was originally published on August 26, 2018