Boeing delivered the first of eight new-built MH-47G today, a full month ahead of schedule. This new heavy hauling chopper is the first purpose-built special operations Chinook ever, although it will be fitted with the same cutting edge avionics and countermeasures as the existing and quite geriatric MH-47s force, which is based on old C, D and E models.
The MH-47Gs will become the backbone of the 160th Special Operations Aviation Regiment, known popularly by their sinister nickname- the Nightstalkers. Design work on this new special operations Chinook model began back in 2011, and it features a monolithic airframe, instead of one made up sheet metal components. This new building process will make the aircraft much less susceptible to vibration, corrosion and allow for longer periods between overhauls. Additionally, the new "Golf" model Chinook should be lighter, more maneuverable and much more reliable than their tired but continuously upgraded predecessors.
With the MH-47G's greater commonality with the Army's mainline CH-47F models, future upgrades can be made to both platforms, saving money and increasing the evolution of the new generation H-47 weapon system. Future enhancements include greater speed, agility, payload and hot and high capabilities as well as upgrades to the Chinook's glass cockpit displays.
For now, the MH-47G will differentiate itself from the Army's newer CH-47Fs by its elaborate missionized enhancements, which include terrain following radar, refueling probe, advanced jamming and countermeasures suite, infrared suppressors on its engines, a cutting edge electro-optical navigation and FLIR sensor suite and most noticeably, the "Golf's" massive sponson fuel tanks which give the aircraft over double the range of its standard US Army counterpart.
G/O Media may get a commission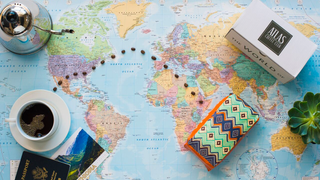 First Bag Free
Atlas Coffee Club - Free Coffee
Explore global coffee
With each bag, Atlas includes details on the coffee's tasting notes and a postcard about the region and its coffee history. And when you subscribe, you have options to tailor frequency, grind size, and roast preference of your beans, so you'll always be brewing the perfect cup.
Photo credit: Boeing source FlightGlobal