What happened to Bob Lutz's grand plan to put the Corvette ZR1's 638 horsepower V8 into the Fisker Karma? If you ask him, the Destino is still on, and in a new piece for Forbes Lutz revealed why he's doing it.
Here's what Maximum Bob has to say in the op-ed:
I believe we are riding the absolute pinnacle of the "car brand as a social accessory" period. The undeniable (though often grossly exaggerated) lesser fondness for cars among millennials bodes ill for the status-symbol brands. To today's younger generation, a car is a necessary evil, a transportation appliance rather than an enabler of freedom, pride, and pleasure. Cars are well on the way to total interconnectivity and will be, basically, self-driving mobile browsers and gaming stations.
We've fought hard against the myth that young people don't care about cars, but actually, I think this is one of the more measured takes I've seen on this trend.
Sure, there are tons of young enthusiasts, and much of the lack of new car buying among younger people is economically rooted, but there are changing social attitudes at work here as well. It's certainly not the case across the board, but it is true among a broad swath of the population.
G/O Media may get a commission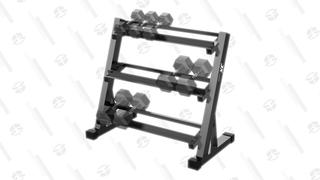 20% Off
JX Fitness Dumbbell Rack
Gains but tidy
Has a three-tier design to help store more weights more conveniently, can safely support up to 1000lbs of weight, which should be enough for most people, has a triangle base for stability, and also features anti-scratch feet which is great if you've built your own studio or workout in your garage.
So what is Bob going to do about it, you ask?
The new technology will be safe and highly efficient, enabling humans to be productive while "driving." It will also be boring, marking the end of a captivating, emotion-laden technological era. I probably won't see it happen in my remaining lifespan, and I don't regret it.

In the meantime, I'm building a 200-mph luxury car that celebrates everything about the spirit of automobiles that has captivated me since the age of 3. Here's the story of the VL Destino, a unique automobile in many respects.
Basically, "I'm going to build this kickass supercharged V8 Fisker, and then I'm out, so fuck all of you and your boring, increasingly autonomous cars." Fair enough, Bob! Fair enough.
Lutz says the Destino will be the only American luxury sedan in the $200,000 price range, about 1,000 pounds lighter than the Fisker Karma, and "among the fastest four-door cars in the world." Right now their website claims the estimated zero to 60 mph time is 3.9 seconds, so they'd be correct in that.
But when we will see it on the road? Lutz doesn't say in his missive, but the car was spied doing warm weather testing as recently as August. These days it's under new management with the merger of VL Automotive and WM Greentech Automotive, so maybe it will be soon.
Can the Destino teach the world the error of its over-connected, autonomous ways? Probably not, but it will cool to see the Fisker Karma get the engine it always deserved.