This is the Morning Shift, our one-stop daily roundup of all the auto news that's actually important — all in one place at 9:00 AM. Or, you could spend all day waiting for other sites to parcel it out to you one story at a time. Isn't your time more important?
I know mine is.
---
1st Gear: BMW i8 Concept Is Best Look Yet At A Real 'i'
Ahead of this week's New York Auto Show, BMW dropped this — the BMW i8 Concept Spyder, the third BMW i model. So what's important about it? Well, how about that it's gone topless? Also, more importantly, is the fact that it's probably the closest look yet at what we should expect from a production-intent BMW "i" model. Given that, what do you think?
---
G/O Media may get a commission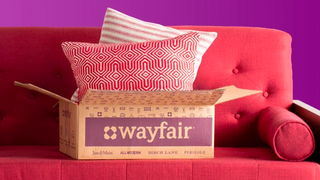 Big deals
Wayfair Surplus Sale
2nd Gear: Daimler Denies Ducati Bid
Bloomberg claims Daimler has denied a sourceless report in Il Corriere della Sera that said it may bid for Italy's Ducati. "We have no interest to take over Ducati," Florian Martens, a spokesman for Daimler, said by phone today. The Italian company is in advance talks with Audi although the purchase by the German carmaker is not the only option on the table, according to the newspaper. My guess? Somebody's fakin' it to get a better deal out of Audi.
---
3rd Gear: Will New Agency Kill 'Chevy Runs Deep'?
Chevrolet's new advertising agency, Commonwealth, faces a big decision as its first order of business: Whether to kill "Chevy Runs Deep" — the 18-month-old Chevrolet tag line. "No decision has been made on 'Chevy Runs Deep,' " Ewanick told reporters during a conference call. "What do we do with the theme line? Do we need a theme line? And if it is, is it 'Chevy Runs Deep?'" For what it's worth, Ewanick uses the term "theme line" when he's talking about a brand's "tag line." Oh, and a decision on the theme line — developed originally by Ewanick's handpicked firm, Goodby, Silverstein & Partners, is expected by summer.
---
4th Gear: Automakers Up Front At Digital Content NewFronts
This month six major players in the digital space — Digitas, YouTube, Yahoo, AOL, Microsoft Advertising and Hulu — will lead an initiative called The Digital Content NewFronts from April 19th to May 2nd in New York. The objective is to rip advertising money — kicking and screaming — away from the less-metric driven TV networks and cable companies they're being wasted on. It's being touted as the first "upfronts" of digital buying, just like the annual negotiations in May to decide who will get the prime TV slots in the fall schedule, and at what price. The digital companies hope brands and agencies will reconsider their spending before the traditional upfronts get under way. GM, Volkswagen, Toyota, Honda, Hyundai and Kia confirmed they will participate but wouldn't say what portion of their budgets will go to digital next year.
---
5th Gear: New Chrysler 'Halftime In America' Ad Makes Me Tear Up A Little
As we told you last week, Chrysler released TV advertisements over the weekend meant to follow up its Clint Eastwood "Halftime in America" Super Bowl ad. Each of the four ads highlight a Chrysler brand. The Chrysler brand ad, which we've included above is about a father talking of his son. The son's success it seems has exceeded his father's wildest expectations even though they didn't "grow up fancy." And that's why the son drives a Chrysler 300. If that's fancy, then what the hell did they drive before that — a 1989 Dodge Caravan? Still, the spot makes my eyes a bit misty... mostly because my dad did own a 1989 Dodge Caravan and now I write about them on the Internet. Wouldn't dad be proud!
---
6th Gear: Fisker Atlantic Is The New Nina
Designed to slot into the Fisker range below the flagship Karma, the Atlantic will be unveiled to the public at this week's New York Auto Show. Although Fisker's holding back on major details until the big reveal, but the Atlantic — once known as project 'Nina' — will be powered by a BMW-sourced four-cylinder engine, with Fisker-developed range-extender technology. The Atlantic will seat four adults, and tries to retain the sexy coupe-like shape of the sedan. I actually like the look. But I like the Karma too, so what do I know.
---
Reverse:
⏎ The Shelby Cobra at 50, An Icon of Sex and Power. [New York Times]
⏎ Auto adjustment: Agency shuffle ebbs, by most accounts. [Crain's Detroit Business]
⏎ Ford Fusion To Get Start-Stop Tech As $295 Option. [AP via Boston.com]
⏎ New VW Tiguan in three versions compact SUV, cross-coupé and SUV XL. [auto motor und sport via Left Lane News]
⏎ GM revamps system for ordering cars. [Automotive News]
⏎ Beneath the High Line, Land Rover Builds an Off-Road Jungle Gym. [New York Times]
⏎ Renault to launch Juke rival. [Auto Express]
⏎ Win a loss for ex-Chrysler dealers? [Crain's Detroit Business]
⏎ Subaru teams with Costco. [Automotive News]
⏎ UAW membership up in 2011, but money woes linger. [Reuters via The Baltimore Sun]
⏎ It's Spring, And For Craft Beer Drinkers, That Means Oberon. [Forbes]
---
Today in Automotive History
Walter Percy Chrysler, the founder of the Chrysler Corporation, which for years was one of America's Big Three automakers along with General Motors (GM) and Ford, is born on April 2, 1875, in Wamego, Kansas. [History]
Show us your tips!
Got tips for our editors? Want to anonymously dish some dirt on a competitor? Know something about a secret car? Email us at tips@jalopnik.com.
Lost in our new layout?
Click here for the Opposite Lock or Tips forums. Want a more "blog-like" look? Click the button up top next to "Top Stories."
Get more Jalopnik!
Want even more Jalopnik? Want to know which of your friends read us? "Like" us on Facebook and follow us on Twitter.