Since BMW's i division launched in 2011, it has only offered two models to consumers, the i3 hatchback and the i8 supercar. So you'd think the next plug-in hybrid, the much-rumored i5, would be right on the horizon. Apparently not, because years after rumors of that car surfaced, BMW Blog says the i5 has now been canceled.

The BMW-focused online magazine cites "several sources" as saying BMW has "scrapped" its plans for the i5, which was rumored to be a higher-range, larger and more practical offering than the i3.
According to the news site, the company made this decision in order to spend its resources on the next flagship, the iNEXT, as well as on electrified versions of core models like the X3 and 4 Series GT.
BMW Blog implies that a core reason for BMWs pivot away from the i5 is to allow the company to focus on "flexible" architectures that can accommodate various powertrain options. BMW Blog quoted CEO Harald Krueger, who said:
We will incorporate all-electric, battery-powered mobility into our core brands, as we have already done successfully with our plug-in hybrid vehicles. By using highly flexible architectures we can avoid duplicate investments in plant and equipment and will be able to adapt our range of electric and conventional vehicles to changing demand both quickly and efficiently.

G/O Media may get a commission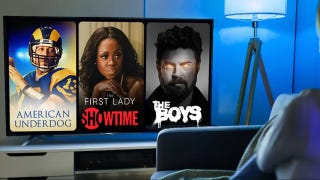 UNDER $1
99¢ Prime Video Channels
Even though this is just a rumor, scrapping the i5 would come as no surprise, as BMW's i division seems to have been going through an existential crisis, of late. Though the division defines itself as "a comprehensive and ground-breaking concept for sustainable mobility," so far, all it's really offered are two niche, low-volume, expensive-to-build electric vehicles.
The i8 is cool, but it hasn't really set the world on fire since its release, and the i3 has largely proven too lacking in range to be a viable competitor to something like a Tesla—or even a Prius. Additionally, last summer it was announced the i division was shifting gears to become more focused on autonomy than electricity.
This has caused some strife within the company, as Reuters reported last year that BMW execs skipped the Paris Motor Show to try to resolve concerns over the company's EV strategy, saying:
Norbert Reithofer championed the i3 project while chief executive of the Munich-based carmaker and, in his new role as chairman, is keeping up pressure on new CEO Harald Krueger and BMW management to expand the company's electric program.

But some other senior executives are unwilling to plough more resources into electric cars until i3 sales improve and there is a clearer business case for such investment, according to one of the four sources, who declined to be named because of the confidential nature of the discussions.

So BMW scrapping plans for an i5 does sound plausible. And in fact, it sort of adds to the notion that perhaps this whole i division idea has turned out to be a bit of a failed experiment.
Maybe making electrified, autonomous versions of regular BMWs is the way to go instead.