The BMW 4-Series is a prettier version of a 3-Series, and that's a damn good thing. What do you need to know before you buy a 4-Series? Don't worry, we'll tell you everything right here in our Buyer's Guide.
In 2014, BMW decided that a coupe built on the 3-Series platform should be called the 4-Series and that the "3-Series Coupe" name should be scrubbed. Then, in 2015, BMW made a four-door version of the 4-Series Coupe called the 4-Series Gran Coupe.
In other words, with the 4-Series Gran Coupe, BMW launched a four-door version of a two-door version of the four-door 3-Series. Our brains hurt.
But the 4-Series is a great package. It looks better than the 3-Series, offers the same excellent engine choices and trots through corners without breaking a sweat.

Sure, it's similar to the 3-Series, but that's a very good thing.
What's New About The 2016 BMW 4-Series
G/O Media may get a commission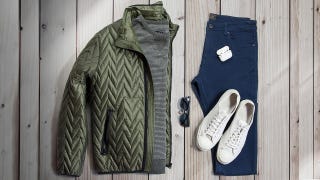 60% off
Jachs NY Fall Sale 60% Off
The 4 Series is a new BMW model. We don't mean "new," as in "updated." No, we mean there has never been a car called the BMW 4 Series until 2014. Yup, for 2014 BMW decided "hey, instead of calling it the 3 Series Coupe, let's just give it its own model designation." That spawned the 4 Series model.
But the 4 Series isn't just a 3 Series Coupe. They made some changes here and there. The styling is different, the 4 Series is wider and has a longer wheelbase, the powertrains have been updated and the car sits lower, giving it the lowest center of gravity in BMW's lineup.
But then 2015 came around and that logic went out the window, as BMW launched a four-door version of the 4 Series called the 4 Series Gran Coupe. But unlike the 3 Series, the 4 Series Gran Coupe is a hatchback, meaning it's a bit more practical than the 3 Series in the cargo space department. It also has the sharp good looks from the 4 Series, though it doesn't look hugely different from the 3er.
For 2016, BMW made a previously optional Package, Sport Line, standard equipment. This added 18-inch alloy wheels, sport bucket seats and red interior accents. In addition, the Dynamic Handling Package from 2015 gets swapped with the optional Track Handling Package, which gets unique 18-inch wheels, M Sport Brakes, adaptive M suspension and variable sport steering.
Which One We'd Buy
If we were buying a 4 Series, we'd grab the base 428i Coupe with a six-speed manual. That's the cheapest 4 Series you can buy, ringing in at about 42 large. But don't think that little two-liter will make you snooze at the wheel. No, you'll get to 60 in 5.7 seconds. Oh, and you'll also score 34 MPG on the highway. How do ya like them apples? We like them quite a lot.
Important Facts At A Glance:
MSRP: $41,650 - $73,900 Top Speed: 156 MPH [M4]
Acceleration: ~4.1s to 60 [M4 Coupe]
MPG: 23 city/ 35 hwy / 27 combined [428i Coupe auto]
Engines: 2.0L turbo I4, 3.0L Turbo I6
Max Horsepower/Torque: 425 hp/406 lb-ft [M4 Coupe]
Curb Weight: 3,450-4,095 pounds IIHS Rating: Not Rated
Transmissions: 8-speed auto, 7-speed dual-clutch auto, 6-speed manual
Drivetrain Layout: Front engine, RWD/AWD
Photo credit: BMW