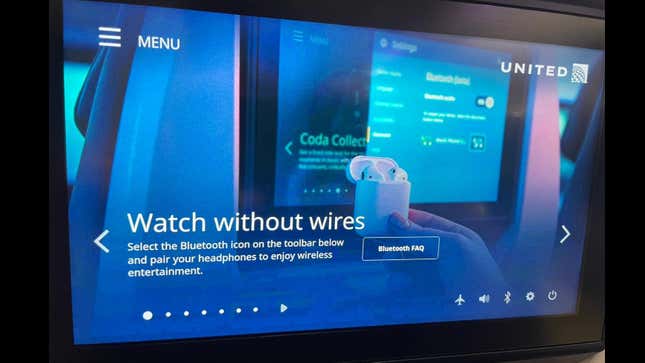 On United flight 694 from Denver, Colorado to Cleveland, Ohio this Wednesday, I was pleasantly surprised to see that my complimentary seatback in-flight entertainment offered integrated bluetooth connectivity. Oh sweet, now I can watch a film without using the terrible free cans on a string the airline calls earbuds. I popped my Sony WF-1000XM4s into connectivity mode, clicked the connect button, and I was flying high in Hollywood heaven.
I consider myself something of a cinephile, typically averaging about 150 movies watched per year. I like an in-flight movie. The screen is tiny, but it's only a foot in front of my face. The seats are uncomfortable, but so are most movie theaters. The sound quality isn't perfect, but it's still a movie. Writers, actors, producers; artists, all of them. They've created entertainment for the enjoyment of all, and by golly I'm going to enjoy it. I am entertained. I am distracted from the crying babies, conversations, wind noise, turbulence, I am enthralled.
Ever since Tim Apple's iTelephone dropped the aux jack, I've been traveling sans cords. It's been a blessing and a curse, because wireless earbuds now offer excellent noise-cancelling technology, and if there's one thing I need on an airplane, it's noise-cancelling technology.
Jaap Haartsen laid the foundation for what would become Bluetooth technology back in 1994, and the first Bluetooth device was released in 1999. We've had a long 29 years to get to this point. Apparently some planes have had Bluetooth integrated with their video screens since 2021, but this was the first time I experienced it, and it was truly great.
I think I've experienced every kind of in-flight entertainment offering possible. I especially dislike when the plane doesn't have a screen and they give you movies to watch on the app over wifi. The plane I flew on to Denver on still used the really old style screens that you have to slide a credit card to select a movie, and the controls are on the armrest. No thank you. I hope that as more planes age out, they are replaced by new planes with Bluetooth. Massive improvement, 4/5 stars.
If you're not lucky enough to fly on a Bluetooth integrated plane, there are transmitters available that will allow you to use your wireless headphones in-flight, such as this one below from Amazon:
Bluetooth Wireless Transmitter: Amazon
Oh, I watched the new animated Spider-Man. It was pretty okay. A little long.